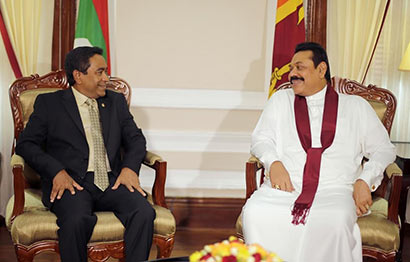 President Mahinda Rajapaksa welcomed Maldivian President Abdulla Yameen Abdul Gayoom and his delegation this morning to the Presidential Secretariat in Colombo where bilateral talks took place. Following a one-on-one conversation between the two leaders, the delegations of the two countries partook in bilateral discussions spanning a wide variety of sectors.
At the outset, President Rajapaksa commended President Yameen's government on the recent election victory last November and for the peaceful political transformation that took place in the island nation.
"I am confident that under your able guidance, the Maldivian people would prosper and the country would reach its full economic potential," President Rajapaksa said. "As the only two island nations in South Asia, we share many values and cultural traditions."
The President further added that visits between officials at the highest political levels serve to further strengthen the "bonds of friendship between our two countries."
Speaking about the historical ties between Sri Lanka and Maldives, President Yameen, who is on a state visit to Sri Lanka, pointed out that to many Maldivians, Sri Lanka is often like a second home. Currently, there are more than 9,000 Maldivians living in Sri Lanka.
"Sri Lanka has always been a brother and ally," President Yameen said. "We are very grateful for the invaluable friendship."
President Rajapaksa thanked Maldives for its continuous support to Sri Lanka at international fora to which President Yameen quickly replied, "What are neighbors for, if we can't support each other in times of need. We will support you."
Citing economic development, and the peace and stability currently prevailing in Sri Lanka, President Yameen said, "We marvel the remarkable achievement the Sri Lankan people are enjoying. What is good in Maldives will transfer to Sri Lanka. Peace and prosperity in Sri Lanka will benefit Maldives."
During the bilateral discussions, the two delegations discussed a number of sectors relevant to both countries in addition to generally strengthening overall bilateral ties in the areas of health, tourism, air services, immigration and security.
President Yameen requested Sri Lanka to help enhance health and education facilities for the Maldivian population currently in Sri Lanka, stressing that Sri Lanka is popular among Maldivian students for pursuing higher education and is often the first choice for obtaining healthcare services.
The fishing sector was also discussed at length. Sri Lanka requested Maldives to grant permission for "innocent passage" for Sri Lankan fishermen sailing to the Arabian Sea. Fishermen would not engage in any fishing in Maldivian waters, but would, according to international laws of the sea, be able to sail in transit. Sri Lanka requested Maldives to also consider purchasing boats manufactured in Sri Lanka, noting that Sri Lankan manufacturers have already received recognition from countries such as Seychelles for producing high-quality vessels.
Following the bilateral talks, Sri Lanka and the Maldives signed the following agreements to further cooperation between the two nations:
1. Memorandum of Understand on Vocational Training and Youth Development
Signed for Sri Lanka: Mr. Dullas Alahapperuma, Minister of Youth Affairs and Skills Development Signed for Maldives: Ms. Dunya Maumoon, Minister of Foreign Affairs
2. Agreement on Bilateral Corporation in the Field of Sports
Signed for Sri Lanka: Mr. Mahindananda Aluthgamage, Minister of Sports Signed for Maldives: Mr. Mohamed Hussain Shareef, Minister at the President's Office
3. Memorandum of Understanding on Combating Transnational Crime
Signed for Sri Lanka: N.K. Illangakoon, Inspector General of Police Signed for Maldives: Mr. Hussaid Waheed, Commissioner of Police
The primary Sri Lankan delegation consisted of the following
1. Senior Minister Urban Affairs Mr. A.H.M. Fowzie
2. Minister of External Affairs Prof. G.L. Peiris
3. Minister of Economic Development Mr. Basil Rajapaksa
4. Minister of Health Mr. Maithripala Sirisena
5. Minister of Youth Affairs and Skills Development Mr. Dullas Alahapperuma
6. Minister of Industry and Commerce Mr. Rishad Bathiudeen
7. Minister of Fisheries and Aquatic Resource Development Dr. Rajitha Senarathne
8. Minister of Education Mr. Bandula Gunawardena
9. Minister of Sports Mr. Mahindananda Aluthgamage
10. High Commissioner of Sri Lanka in the Maldives Mr. Sarathchandra Dela
11. Chief of Staff of the President Mr. Gamini Senarath
A number of other secretaries of ministries and government officials were also present at the bilateral talks.
(Courtesy: President Media / Photos by Sudath Silva)