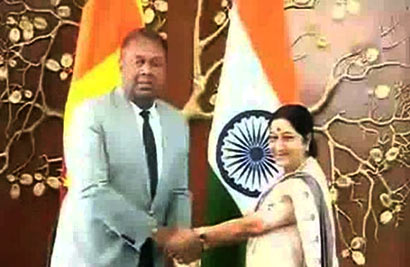 Sri Lanka's new foreign minister Mangala Samaraweera met Sushma Swaraj on Sunday during a visit to improve strained ties after elections in the island toppled longtime strongman Mahinda Rajapakse.
Relations suffered under Rajapakse, who cultivated close links with China which has invested heavily in Sri Lanka to try to counter regional rival India.
The former president also ignored Indian calls to address allegations that Sri Lankan troops killed some 40,000 civilians during the final stages of a campaign to wipe out Tamil Tiger guerrillas in 2009.
Samaweera, making the first overseas trip since his appointment, told Sushma Swaraj before talks began that a "visit within five days of being sworn in reflects our priorities".
The ministers are expected to discuss a range of issues including closer economic cooperation, frequent fishing disputes and Indian concerns about the treatment of Sri Lankan Tamils, many of whom have close ties to India.
Rajapakse fell out with several countries which accused him of turning a blind eye to large-scale human rights abuses as he refused to cooperate with a UN-mandated investigation into the killing of Tamil civilians.
Then-Indian Prime Minister Manomohan Singh was among several leaders who boycotted a Commonwealth summit hosted by Rajapakse in November 2013 over his refusal to allow the international probe.
The new government in Colombo has indicated willingness to rebalance its ties with China and India and address a perceived pro-Beijing tilt.
"President Rajapakse's regime tried to play China against India and India against China and…came a cropper," Sri Lanka's new Prime Minister Ranil Wickremasinghe told India's NDTV news channel in Colombo on Saturday.
Samaweera, who is on a three-day visit to New Delhi, is also scheduled to meet Prime Minister Narendra Modi on Monday.
(AFP)