Manilal banned for life by FIFA
Posted by Editor on October 10, 2013 - 8:28 am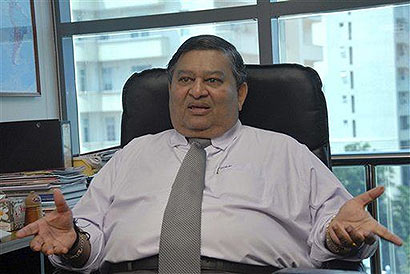 Former Sri Lankan football chief Manilal Fernando was banned from football for life by world governing body FIFA on Wednesday after an appeal by him against an original judgement failed disastrously.
Fernando, a former member of the FIFA Executive Board, had appealed against an original eight year ban imposed on him at the end of April, while the chief investigator in the original case Michael J Garcia also appealed against the leniency of the punishment.
The FIFA Appeal Committee reached a decision in favour of Garcia.
"The appeal lodged by Mr Garcia has been upheld by the Appeal Committee," read their statement.
"The lifetime ban has been imposed on Mr Fernando for violations of art. 13 (General rules of conduct), art. 19 (Conflicts of interest), art. 20 (Offering and accepting gifts and other benefits), art. 21 (Bribery and corruption), and art. 42 (General obligation to collaborate) of the FIFA Code of Ethics, 2012 edition."
Fernando is an ally of former Asian soccer boss Mohamed bin Hammam, who is fighting claims of bribery and financial misdeeds.
Fernando also had a seat on the Asian Football Confederation (AFC) executive committee.
In March, FIFA said it was initially suspending Fernando in the wake of an investigation opened in October 2012. It said the action was "in order to prevent interference with the establishment of the truth regarding ethics proceedings".
His suspension was thought to be related to investigations into scandal-hit ex-AFC chief bin Hammam, whom he had backed strongly.
The Qatari businessman was accused of trying to buy votes in FIFA's 2011 presidential vote, and banned from football.
Fernando accompanied bin Hammam on a trip to Caribbean nations ahead of the vote. Bin Hammam was later accused of trying to bribe officials during the visit.
The Qatari resigned as AFC head last December, shortly after FIFA's ethics committee launched a new probe into corruption claims against him.
He remains suspended from football despite having the FIFA life ban overturned last year.
The AFC also said last year it was probing alleged corruption by bin Hammam when he was its chief.
Bin Hammam has denied wrongdoing in the FIFA presidential challenge and claims to be the victim of a politically motivated campaign to ruin him. He was once close to FIFA boss Sepp Blatter but the two later became estranged. (Source: AFP)
Latest Headlines in Sri Lanka