Manju tested positive, may lose gold
Posted by Editor on October 24, 2010 - 11:09 am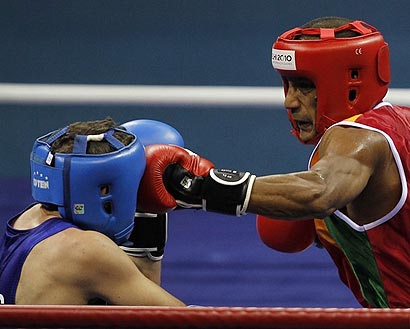 Sri Lanka suffered a major humiliation as Commonwealth Games bantam weight boxing champion, Manju Wanniarachchi has been tested positive for banned steroid, nandrolone and is on the verge of losing the country's first gold medal in 72 years.
According to highly placed sources his 'A' sample contained 19-Norandrosterone, a prohibited anabolic under category S1 from the WADA (World Anti-Doping Agency) list of prohibited substances. Nandrolone is broken down into 19-Norandrosterone, which can be detected in urine.
Commonwealth Games 2010 organizers sent the report containing the A sample report to the National Olympic Committee of Sri Lanka (NOC) officials last week, which has been notified to the boxer.
Source added the boxer had admitted to injecting the said drug six months back from a medical practitioner in Kurunegala.
Wanniarachchi can now request for a B sample test and if the outcome remains unchanged, he would be stripped off his gold medal and could face up to a two- year ban from all competition.
Wanniarachchi, 30, who hails from Kandy produced 'stunning' performance right through the tournament before being adjudged the winner after scores levelled on 7 all in the title bout against the Welshman Sean McGoldrick. But after barely two weeks comes the shocking news, that he has been tested positive.
The win was considered a great achievement for the island nation where bureaucratic bungling has often ruined most sports and people believed that concerted efforts by the boxing officials have finally paid off dividends. His entry to the final round erupted island-wide celebration as folks from all walks of life gathered in front of their television sets to witness history being made. Soon after his win President Mahinda Rajapaksa congratulated the man who wept profusely when the judges pronounced he was the winner.
His manager Dian Gomes told AFP soon after the win "It's a great victory for us after 72 years. It means so much for boxing in Sri Lanka. This is one of the greatest victories of all time. It's as good as winning the cricket World Cup."
The country's last gold was won by Ansdale "Barney" Henricus in Sydney in 1938.
Sources also said NOC has informed President Mahinda Rajapaksa of the positive drug test which could be the biggest doping scandal in Sri Lanka's sporting history.
Repeated attempts to contact boxing officials to clarify the matter were in vain as either the phones were switched off or not answering.
Last four years saw Sri Lanka reporting two instances of positive drug tests when sprinters Jani Chathurangani and DPP Priyadarshani were caught for doping and subsequently banned.
Nandrolone, synthesized from male hormone testosterone, is much abused in sport. It is believed to increase muscle strength and reduce fatigue. Among the side effects, it can cause liver damage and can lead to heart attack. Cricketer Shoaib Akhtar, 100m Olympic champion Linford Christie, Olympic legend Marlene Otty, France's FIFA World Cup winner Christophe Duggary and tennis player Petr Korda are among the high-profile athletes who have been tested positive for this drug.
Courtesy: Lakbima News
Latest Headlines in Sri Lanka