Mano sends warning signals to UNP
Posted by Editor on February 20, 2010 - 2:36 am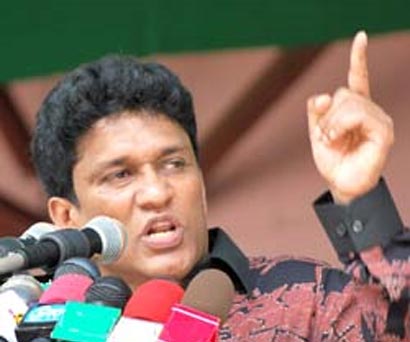 News Source: CaFFE
In a letter released to the media, The Democratic People's Front (DPF), a constituent party to the UNP-led alliance yesterday criticised the UNP for what it termed as attempts to field Tamil businessmen as candidates from Colombo sidelining their noinees.
In a letter sent to UNP leader Ranil Wickremesinghe, DPF leader MP Mano Ganesan said certain UNP politicians in the nomination board were trying to introduce some traders as UNP Tamil candidates in Colombo.
"It is a plan to create fissures within the Tamil vote bank denying opportunities for a genuine Tamil representation in Parliament. It seems that UNP wants Tamil votes but not Tamil MPs in Colombo. It is a breach of understanding and trust between our two parties.
Please look into this conspiracy against our party and the Tamil community. Otherwise we will part ways with the UNF," he told Mr. Wickremesinghe.
The letter says: "When we were fighting on the streets against abductions, extra judicial killings and taking ransoms, where were the Tamil UNPers whom you intend to field today in Colombo against us?
You are intending to bring those who were standing idle and busily making money while we were struggling to save our people.
"We consider this not only as an insult to our party but also to the entire Tamil community. When your UNP MPs joined the government to take up portfolios we stayed with you on principle. We have no personal animosity with the president. We opposed the government on principle on human rights issues.
"The Democratic People's Front enjoys the highest respect among the Tamil community in the country. We will be compelled to move out of the UNF. We will not go empty handed. We will go out taking all our Tamil voters with us,"the letter concludes.
Latest Headlines in Sri Lanka