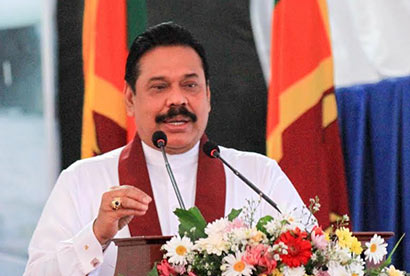 – by Janaka Alahapperuma – Pix by: Sudath Silva –
President Mahinda Rajapaksa urged public servants to render an efficient, effective and dedicated service for the benefit of the people irrespective of any differences. The government provides every facility for the public services hoping the people will receive an efficient service from all the public servants. The President also noted that government servants should identify issues of the people properly and give solutions to them expeditiously to meet their aspirations while putting aside personal agendas and act with a common agenda for the well-being of the people and the country.
The President made these remarks after opening the newly constructed five storied Moneragala District Secretariat complex on Monday evening (August 01). The new building complex has been built at a cost of 550 million rupees in line with the ongoing state service modernisation programme introduced by the Public Administration and Home Affairs Ministry. It is equipped with every modern facility to offer a better public service to cater to all needs of the people under one roof.
Addressing the ceremony the President said the government has also clearly understood the issues and requirements of the public sector and numerous difficulties face by the public servants with lack of facilities. Public servants need to have proper facilities at their offices. The government has allocated millions to upgrade infrastructure facilities aiming at providing a better public service. He further added that general public expects satisfactory service from government officers all the time.
"Generally, people with different issues come to public servants with tears in their eyes. So, it's your duty to address people's issues promptly to wipe away their tears," he noted.
The President also highlighted the value of learning various languages in addition to the mother tongue and updating their knowledge in IT. He urged public servants to utilise the modern technology and facilities available to improve their language capabilities and IT skills.
Ministers W.J.M.Seneviratne, Mrs Sumedha Jayasena, Vijith Wijithamuni Soyza and Mahinda Amaraweera, many local politicians and government officials were present at the occasion.