Megapolis Mulls Mass Relocation
Posted by Editor on January 17, 2016 - 10:19 am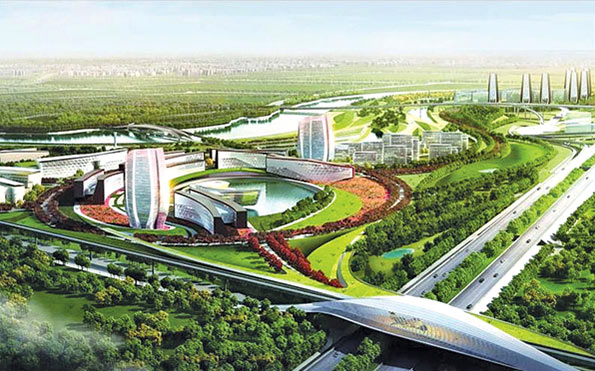 With the kicking off of the Western Region Megapolis Project Masterplan (WRMP) scheduled for this week the United National Front For Good Governance (UNFGG) hopes to relocate tens of thousands of slum-dwellers, numerous industries in core city and shift at least 20 government offices to more suitable areas, a high-ranking town and spatial planner told The Sunday  Leader.
Accordingly, WRMP's housing initiatives will focus on necklaces around the Colombo City, with the key objectives of releasing valuable land occupied by slums and unorganized, unplanned settlement in order to evenly distribute the populace and infrastructure facilities within the city aimed at regeneration of under-served.
Building housing apartments of different categories identified above and location of administration buildings is identified as a Mega Project.
The housing is of mainly three categories; under-served, Middle class and the Luxurious Housing. The underserved & Middle class housing schemes need to address the shortcomings happened in the past and the dwellers must feel the ownership of this transformation. With the transcending society their needs and aspirations should be designed to be fulfilled. The under-served community regeneration programmes are urgent; specially to release the economic corridors occupied by them.
The Middle Class is expanding the society and mainly consist of public & private sector employees. With proper housing schemes & facilities the majority is expected to be these housing defining an equality within the society.
A total of 100,000 housing units each are earmarked for under-served and middle class generating nearly 79,900 jobs.
Under relocation of Government Offices, the State aims for the optimum utilization of the urban lands and concentrated infrastructure network and contain the ever-increasing infrastructure needs within present magnitude and improving the productivity.
Under Phase I the following Government offices / intuitions are to be relocated: President House, Presidential Secretariat, Prime Minister's Residence, Prime Minister's Secretariat, Prison Head quarters (Welikada & Magazine), Defense Head Quarters, Mahaweli Development Authority, Department of Survey, Labor Secretariat, Department of Motor Traffic, CID Office, Sri Lanka Telecom, Motor Traffic Department, Department of Inland Revenue, National Housing Development Authority, Ceylon Electricity Board, Postal Department, Ministry of Transport, Ministry of Disaster Management and Manning Market.
UNFGG has also proposed 'The High Rise' to be developed as the dynamic, vibrant and glamorous Central Business District of the Megapolis, which will be the hive of international trade, commercial and financial activity, with an attractive environment.
(Source: The Sunday Leader)
Latest Headlines in Sri Lanka