Mervyn Silva booed at by UNP supporters
Posted by Editor on September 20, 2013 - 10:59 am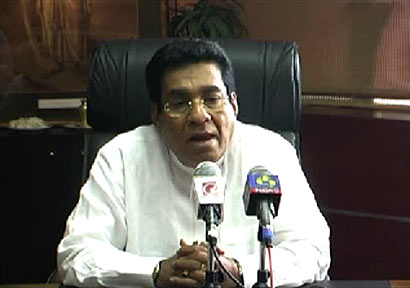 Some UNP supporters who were present at a meeting at Waikkal, Wennappuwa, booed at Minister Mervyn Silva on Wednesday (18), when he happened to go past the venue of the meeting, which had been organized by the Leader of the Opposition, Ranil Wickremesinghe.
MP Rosy Senanayake was addressing the gathering at the time the incident took place.
Sources said a clearly agitated minister had got off his vehicle and had questioned as to who had booed him. One person had responded saying they had not hooted at anyone but they had expressed their joy in response to what MP Senanayake had said.
Sources added that the police at the scene had stepped in and had requested the minister to proceed on his journey, in order to avert a clash that could have ensued.
When the minister's vehicle began to move, once again the crowd had started to boo.
(Courtesy: Ceylon Today)
Latest Headlines in Sri Lanka