Microsoft in talks to buy Skype
Posted by Editor on May 10, 2011 - 2:22 pm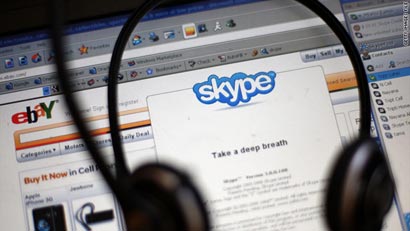 (FT) — Microsoft is in advanced discussions about purchasing Skype, the internet telephone company, a person close to the company said, in what would be one of the technology company's largest deals as it seeks to revitalise its business.
A deal between the two companies could be announced as early as Tuesday, according to the person familiar with the talks. While details were still hammered out on Monday night — which could yet derail an announcement — the person added that the deal could value Skype at about $8.5bn, including debt.
The deal would mark Microsoft's most aggressive move online so far, as the Seattle-based company seeks to respond to strategic challenges and shift away from its core Windows business into other areas, including the internet, communications and entertainment.
Microsoft's last substantial deal was the purchase of online advertising company Aquantive in 2007 for just over $6bn.
Microsoft declined to comment on the negotiations with Skype. But the internet telephone company, which is owned by a group of private investors led by Silver Lake Partners, could not be reached for comment on the deal, which was reported by the blog GigaOm and the Wall Street Journal.
A deal, if made for cash, would make little dent in Microsoft's cash reserves. The software company had cash and short-term investments of $50.2bn at the end of March, up from $13.4bn the year before.
However, the value put on Skype by the potential acquisition represents a big premium to what Wall Street had been expecting in an initial public offering.
The internet calling service reported a loss of $7m for 2010 on revenues of $860m. It has struggled to find add-ons for its free voice and video services that add revenue.
Skype boasts about 145m people who use its services each month, although less than 10m pay anything at all — usually to make, or receive, phone calls on regular telephones rather than through a computer. Its average number of monthly users rose by nearly 40 per cent last year.
At $8.5bn, a deal would value Skype at about 32 times its adjusted earnings before interest, tax, depreciation and amortisation — the measure by which analysts assess its performance.
The company last summer filed for an initial public offering through a Nasdaq listing. However, since then, takeover speculation has swirled around Skype, with Google and Facebook mentioned as possible suitors.
Microsoft may tread carefully in picking up Skype. Ebay purchased the company in 2005, but failed to deliver on its promise of profitably bringing together internet communication with online shopping. The company eventually wrote down its investment in Skype, selling the business to a group of private investors.
Courtesy: Financial Times
Latest Headlines in Sri Lanka