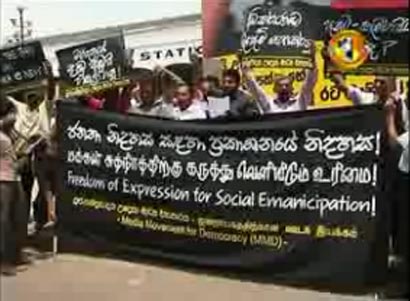 A demonstration was held opposite the Fort Railway Station yesterday against the ban imposed on the Lanka e-news website, and against media suppression.
The demonstrators charged that Lanka e-news Journalist Shantha Wijeysooriya had been assaulted by a jailer at the Matara prison.
The demonstrators noted that everyone should join hands for the protection of journalists. Furthermore, they demanded that the freedom of expression be guaranteed.
"Thirty-five (35) incidents of journalists being assaulted were reported in the recent past. Ten (10)  journalists were killed during the reign of this government. Eight (8) incidents where journalists were abducted were  also reported.. It has been nearly 500 days since Journalist Prageeth Eknaligoda disappeared. The present government, media Minister and police should be held responsible for the suppression of media freedom, and democratic rights in the country," said Chandana Sirimalwatta, Convenor of Media Movement for Democracy.
Courtesy: News First