MILLIONS WORTH GANDHARA BUDDHIST ARTIFACTS CAUGHT WHILE BEING SMUGGLED OUT
Posted by Editor on July 8, 2012 - 9:25 am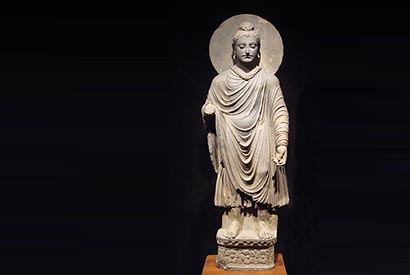 Onlanka News – by Walter Jayawardhana
Buddhist artifacts worth millions believed to be from the first century AD Gandhara School of Art were caught while they were in the process of being smuggled out of Pakistan to the adjacent Pujab province in India by smugglers.
The Karachchi Police of Pakistan made the recovery  while the valuable cargo was ferried to Sialkot wrapped up in colored foam and packed into wooden crates in a container loaded with water coolers broom sticks and slippers as camouflage.
The preliminary inquiries have revealed the collection is not a part of any museum collection and the police think the destination of Sialkot is also curious as it is not a preferred route of the smugglers.
The largest artifact in the collection is a 1,000-kg Bodhisattva. Mostly in the grey stone typical of Gandhara work, the collection also includes tablets and depictions from the Jataka stories. Some of the pieces have been damaged because of the rough handling of the cargo by the policemen.
A report said: "Since the collection is not part of any museum, Pakistani archaeologists are working under the premise that these artefacts were dug up from Swat — where the Gandhara form of sculpture flourished — when the Taliban overran the picturesque valley before they were pushed out in 2009. According to the government of Khyber-Pukhtoonkhwa, there are still about 400 Buddhist sites in the Swat Valley alone. Given the ideology of the Taliban, many of these sites came under attack during their regime."
Latest Headlines in Sri Lanka