Minister Sirisena complains of vicious media campaign against him
Posted by Editor on February 28, 2013 - 7:44 am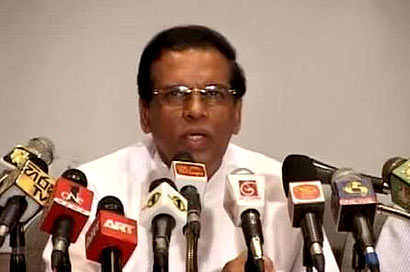 A well planned media campaign is underway in Sri Lanka parallel to the 'Geneva war' to weaken and destroy the United People's Freedom Alliance (UPFA) government led by President Mahinda Rajapaksa. The local media is using the 'Pasikuda incident' as the main tool in this campaign, Sri Lanka Freedom Party (SLFP) General Secretary and Health Minister Maithripala Sirisena said.
Addressing a press briefing at his official residence yesterday, Minister Sirisena said he can guess who is behind the media campaign against him, the UPFA Government and the President and their intention.
"All of us need to protect and strengthen President Rajapaksa, the UPFA government and the country. All who love President Rajapaksa should rally round him at this moment.
Weakening the General Secretary of his political party will not do any good at this moment," he said.
The minister said what the media was doing now was trying to break or remove the main beam of the UPFA to destroy the entire house (UPFA). "We cannot forget the historic achievement of President Rajapaksa and the historic role played by Defence Secretary Gotabhaya Rajapaksa to save the motherland by ending the 30 year war. I will continue to safeguard and strengthen President Rajapaksa, the SLFP and the country no matter what happens to my life," he said. Minister Sirisena said it is also possible for certain elements to promote this media campaign.
"The new Senaka Bibile National Drug policy which was destroyed and disappeared, will be introduced soon to protect poor patients from multinational drug barons. An entirely new tender procedure will be introduced to the Health Ministry from next month to rid of corruption and malpractices," he said. (Courtesy: Daily News)
Latest Headlines in Sri Lanka