Minister Yapa Denies Island Story on match fixing
Posted by Editor on March 10, 2011 - 1:31 pm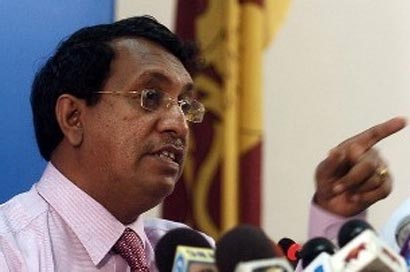 Sri Lanka Minister denied the match fixing allegation that appeared in the Island news paper today. The Minister of Environment Mr. Anura Priyadarshana Yapa who briefed the media at the Wednesdays Post -Cabinet Press Conference has been quoted as saying that the relevant authority should probe match fixing allegations against Mahela, Thilan
The Director General of Government Information said that the said news item which has been attributed to the Minister Anura Priyadarshana Yapa is far from the truth and highly distorted and misleading.
The headline and the opening paragraph itself is misleading as the Minister Anura Priyadarshana Yapa has not uttered a single word
regarding match fixing allegations against Mahela and Thilan or that the relevant authority should probe this allegation, as reported in the said news item. In fact what the Minister did say answering a query at the Post-Cabinet Press Briefing held on 9th March 2011 was, quote Media has the freedom to write and express what they want.  The Government does not deprive the media of this right.  There are institutions (referring to ITN story) or owners of such institutions who can take action against their people. Let the ITN handle it on its own Unquote.
The Minister answering further went on saying that Sri Lankan
Cricketers are not betrayers.  Not even a single allegation has been
made against our Cricketers, past or present from the outset. But on
the contrary there are instances where the cricketers of other
countries were subject to such allegations resulting in imposing ban
on playing cricket.
Source: Government News Portal
Latest Headlines in Sri Lanka