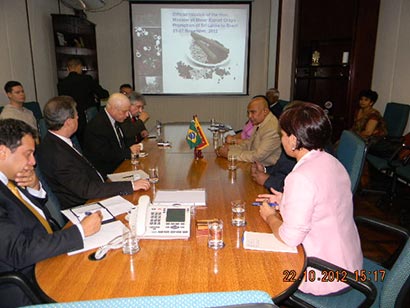 Minister of Minor Export Crop Promotion, Reginald Cooray, and three delegates visited Brazil during the period from 21-26 October 2012 on a trade promotion mission for Sri Lankan spices.
Minister and the delegation held official meetings with Minister of Agriculture and Livestock Development of Brazil, Mendes Ribeiro  and senior officials in  Brasilia.  Minister Ribeiro agreed to provide assistance for Sri Lanka for crop management during severe drought with the technology available in Brazil.
Subsequently, the Ministerial delegation visited EMBRAPA, the headquarters for Agriculture and Livestock Development and Research in Brazil.  The President of EMBRAPA, Dr. Mauricio Antonio Lopes agreed to provide assistance in research to Sri Lanka and requested in return assistance from Sri Lanka to develop Pepper plantations in the Amazon region.
The Sri Lanka delegation also held discussions with the officials of the Ministry of Industrial Development and External Trade in Brazil and with the President of International Chamber of Commerce in Rio de Janeiro.
During the visit, two Trade Exhibitions were held at the Sri Lanka Embassy in Brasilia and in Rio de Janeiro attended by Government officials, entrepreneurs and Diplomats. The Brazilian entrepreneurs were impressed  with the high quality  of  Sri Lankan  spices and showed keen interest in purchasing Cinnamon, Pepper and other spices in the near future.