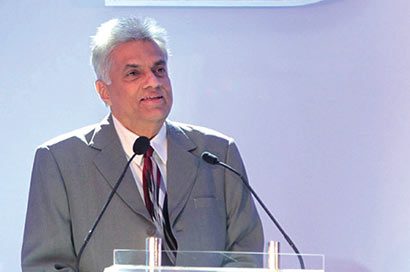 COLOMBO: Sri Lankan Prime Minister Ranil Wickremesinghe said here on Monday, that Indian Prime Minister Narendra Modi is 'very interested' in Sri Lanka and the region, and that this augurs well for Sri Lanka which is in the threshold of a new era.
Wickremesinghe was speaking at the Indian High Commission reception to mark the 66 th Indian Republic Day.
The Lankan PM said Sri Lanka is wanting to go beyond strengthening traditional ties to strengthening economic ties to enter the modern age.
He further said that the newly elected President Maithripala Sirisena and the masses who voted him to power share this perspective.
Wickremesinghe appealed to Lankan businessmen to link up with India to explore new opportunities thrown up by a resurgent neighbor.
Breaks Diplomatic Tradition:
The Lanka PM broke diplomatic tradition by agreeing to be the chief guest at India's National Day when normally the chief guests are ministers.
The reception was a rare gathering of Colombo' s elite.Twenty six ministers, the leader of the opposition, Nimal Sripalade Siva, former President Chandrika Kumaratunge,  top honchos of Indian and Sri Lankan companies, and foreign envoys were present.
(NIE)