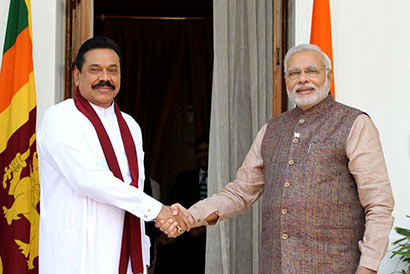 With India stepping up efforts to prove the innocence of the five Indian fishermen sentenced to death for drug trafficking by the Colombo High Court, sources told The Hindu that New Delhi was hopeful of finding a resolution to the situation that has led to protests in Tamil Nadu.
While Sri Lanka retains the death penalty, no execution has been carried out in the country since June 1976, as successive Presidents have declined signing the final orders. Sources told The Hindu that Indian officials had already contacted President Rajapkasa's office to express India's appeal in the matter of the five Indian fishermen. Officials also confirmed that Prime Minister Narendra Modi will "certainly take up the issue with President Rajapkasa when they meet next," which is likely to be on the sidelines of the SAARC summit in Kathmandu between November 25 and 27.
The Sri Lankan government, which is heading for elections in January, however, remained non-committal on Friday with regard to India's statements. "India is clearly aware of another country's legal systems, treaties signed and convicts exchange agreements," Information Minister Keheliya Rambukwella said in Colombo.
To begin with, India and Sri Lanka have signed an agreement on the transfer of sentenced prisoners in 2010, when President Mahinda Rajapaksa visited New Delhi, that allows the prisoners to serve out their punishment in India. If an appeals court were to commute the sentences of the convicted fishermen, there would be some hope of the agreement being applied.
In 2013, Sri Lanka transferred 29 prisoners, who had been sentenced for various offences, to Indian prisons in Tamil Nadu and Kerala under the agreement. Under the same agreement, India also transferred to Colombo a Sri Lankan national held more than a decade ago for drug trafficking and whose sentence was commuted to life imprisonment. He was repatriated in 2013.
(The Hindu)