Modi pledged 100% support – TNA
Posted by Editor on September 1, 2014 - 1:04 pm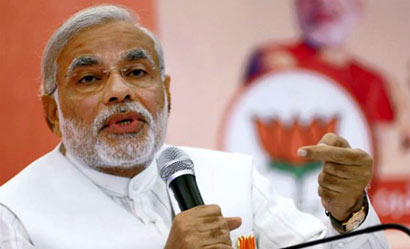 Indian Prime Minister Narendra Modi had told a delegation of the Sri Lankan Tamil National Alliance (TNA), when the latter met him in New Delhi on August 23, that India would be 100 per cent with the Tamils of Sri Lanka.
"We are 100 per cent with you, Modi said at the end of the meeting," TNA delegation member M A Sumanthiran told Express here on Sunday.
Asked if Modi had requested the TNA to talk to other Tamil-speaking Lankan parties like the Sri Lanka Muslim Congress (SLMC) and the Ceylon Workers' Congress (CWC) representing the Indian-Origin Tamils, to evolve a common front, Sumanthiran said: "He asked us to take on board, not only the SLMC and CWC, but the opposition parties and liberal elements in the ruling alliance also."
A First
Traditionally, India has been talking to all political parties in Sri Lanka, and not just the TNA. But this is perhaps the first time that an Indian Prime Minister has explicitly sought the formation of a joint Lankan front or joint negotiating plank on the Tamil issue.
It is learnt that the Sri Lankan opposition leader, Ranil Wickremesinghe, is to visit New Delhi soon. And according to Economic Development Minister, Basil Rajapaksa, former President Chandrika Kumaratunga, who is now a bitter opponent of President Mahinda Rajapaksa, has also put in a request to meet Modi. Kumaratunga still has influential friends in New Delhi.
Sumanthiran said that Modi had gone along with the TNA's stand that there should be bilateral talks between the Lankan government and the TNA to solve the Tamil question.
No Special Envoy
The TNA asked Modi to appoint a Special Envoy for Sri Lanka, as Prime Minister Indira Gandhi did in the 1980s (G Parthasarathy was the Special Envoy then). But Modi said the Indian High Commission in Colombo is sufficiently equipped to handle the matters.
According to delegation member Mavai Senathirajah, when the TNA handed over to Modi, a letter from the Northern Province Chief Minister C V Wigneswaran and said that the latter would like to meet him, Modi said: "I am eager to meet him too." Modi then handed over the letter to an aide, saying: "Please make the necessary arrangements." – The New Indian Express
Latest Headlines in Sri Lanka