Modi promised attention to Sri Lanka Tamil issue: Vaiko
Posted by Editor on May 20, 2014 - 1:44 pm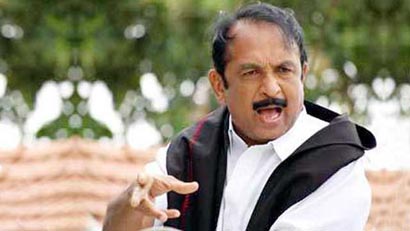 Marumalarchi Dravida Munnetra Kazhagam (MDMK) chief Vaiko met Narendra Modi in New Delhi on Monday and said that the latter has promised attention to issues of minorities and Sri Lankan Tamil issue.
MDMK is an ally of NDA (National Democratic Alliance) in Tamil Nadu.
"He told me that the minorities within a short time will realize, I (Modi) am protecting everybody. In Kargil, where the minorities form the population, there BJP has won. And one more thing I said in this state five years back, hundreds and thousands of Tamils were allegedly killed by the Sri Lankan government with all the logistics, support and help of the UPA (United Progressive Alliance) government guided by Sonia Gandhi," said Vaiko.
India and Sri Lanka are often embroiled in situations where both parties claim to have arrested fishermen for wandering away and crossing international water boundaries.
Though fishermen in Tamil Nadu have been constantly fighting to demand safety from the government, Sri Lanka claims that poaching and illegal fishing by Indian fishermen depletes the catches of its own fishermen. (ANI)
Latest Headlines in Sri Lanka