Moragahakanda Kalu Ganga Multi purpose Development Project will be vested with public in 2018 – President
Posted by Editor on October 14, 2016 - 7:27 am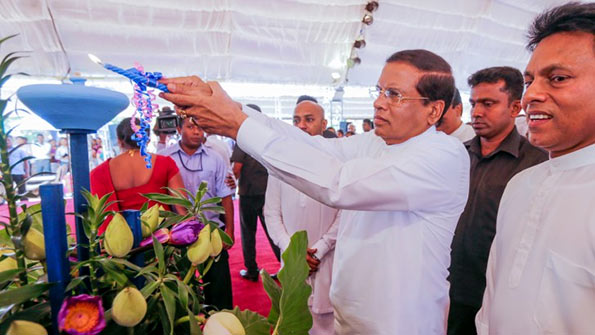 The Moragahakanda Kalu Ganga Multi- purpose Development Project will be vested with the public by the year 2018, ending the sorrowful stories of farmers in Rajarata as well as providing solutions for the drinking water issue faced by the people in Anuradhapura, Polonnaruwa and Matale Districts, said President Maithripala Sirisena.
He said so addressing a ceremony held at the Anuradhapura Public Ground yesterday (13), to recruit 1000 graduates to the teaching service.
Towards a Knowledge-based society and as a solution for the shortage of teachers in the schools in the North Central province these 1000 graduates recruited as teachers under the 'Dahasak Mal- Egenumata Mul Tena' programme. During the ceremony insurance covers and contribution to the Employees Provident Fund was granted for 2,500 Montessori teachers for the first time in the history of the country.
Twenty five diploma holders of Higher National Diploma in Accountancy were also recruited as Account Assistances for Local Government institutions for the first time in the history of the country.
The President said that the present Government is implementing a just and balanced development in the country which recognized priorities in the national development instead of development agendas implement according to the politicians' will, creating an unequal distribution of benefits for different districts.
The President recalled that we had to face three decade long period of brutal war as a result of the rulers only focusing to develop their respective areas and we should blame, not for those who voice against inequality but for ourselves for not fulfilling the responsibilities that we should fulfill.
"The new Government is working to implement educational policies with suitable philosophy for the country", he said.
The Government fulfills its duties to strengthen the free education as per the government policy and had paid special attention to provide solutions to the issues of the teaching service.
The Maha Sangha including the Chief Incumbent of the Ruwanweli Maha Seya Venerable Pallegama Hemaratana Thera, other religious leaders, Ministers Duminda Dissanayake, P. Harrison, Chandrani Bandara, the Governor of the North Central Province, P. B. Dissanayake, Chief Minister of the North Central Province, Peshala Jayarathne and many others participated in this event.
(President's Media)
Latest Headlines in Sri Lanka