Moratuwa Uni team wins big at Microsoft Imagine Cup
Posted by Editor on July 29, 2016 - 8:13 am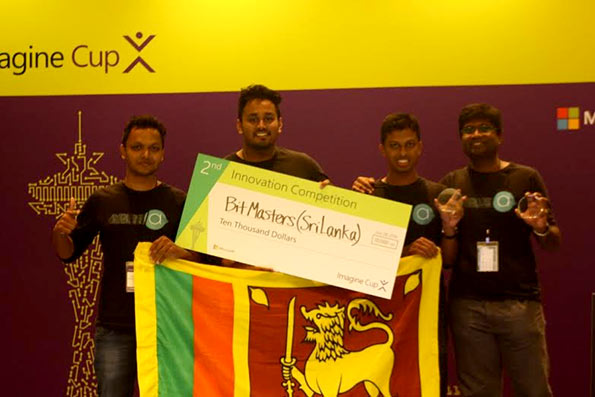 Making all Sri Lankans proud, BitMasters, the Moratuwa University Engineering Faculty team taking part in the world finals of Microsoft Imagine Cup 2016, won the second place under the Innovation Category.
The award ceremony was held on Thursday in the Microsoft Campus in Redmond, Seattle, with Microsoft CEO Satya Nadella gracing the event.
Perhaps this could be the biggest win any Sri Lankan team has so far achieved in an international student technology competition.
"We are extremely happy that we were able to take the Sri Lankan flag to the international stage at the biggest student technology competition in the world. We are super excited. Hard work of two years well paid off," BitMasters said.
The team consists of Lakmal Buddika Meegahapola, Chanaka Lakmal, Chathusha Wijenayake and Charith Eranga.
While Lakmal, Chanaka and Charith are in their third year in the Department of Computer Science, Chathusha is a third-year student of Department of Civil Engineering.
BitMasters presented 'Amplus' an intelligent digital signage solution for the competition under the Innovation category, which they believe could revolutionise the global advertising industry.
According to them, the global digital signage business is poised to be a US $ 20 billion industry by 2020.
Meanwhile, the first place under the innovation category went to team ENTy of Romania and the third place to team HealthX of USA.
Microsoft Imagine Cup 2016 is held under three categories—Games, Innovation and Global Citizenship.
The top three teams in these categories will receive—US $ 50, 000 (first place), US $ 10, 000 (second place) and US $ 5, 000 (third place).
The three first-place winning teams will move on to the Championship round, where one team will be crowned the Imagine cup World Champion, which is scheduled to take place this Friday.
The winning team will have the opportunity to have a one-to-one mentoring session with Microsoft CEO Satya Nadella.
(Daily Mirror – By Indika Sakalasooriya in Redmond, Seattle)
Latest Headlines in Sri Lanka