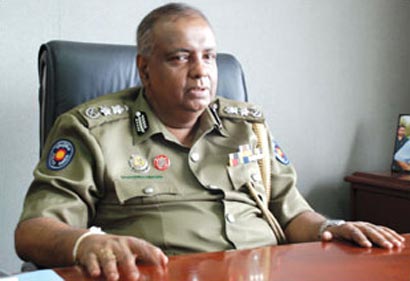 The Criminal Investigation Department (CID) is currently recording a statement from a former IGP Mahinda Balasuriya in connection with the murder of assassinated journalist Lasantha Wickrematunge, the police said.
The IGP has arrived at the Police Headquarters to give the statement, a short while ago on Friday (29) morning. Balasuriya was a former secretary to the Ministry of Law and Order as well.
An army official was also taken into custody for allegedly threatening the driver of Wickrematunge on 16 July.
Police said that the army officer was arrested over the abduction, unlawful detention and questioning of the individual, who was the driver of Wickramatunge's vehicle prior to the assassination.
The CID was granted permission to detain and interrogate the suspect for 48 hours after he was produced before court earlier. Wickrematunge, founding editor of privately-run newspaper Sunday Leader, was shot dead while he drove to work in January 2009. Wickrematunga was a staunch critic of the administration of then-president Mahinda Rajapaksa, which has insisted it had no role in the editor's killing.
Sri Lanka's new government had reopened investigations into the murder after coming to power in January last year.  In February, the police released sketches of two persons who are suspected to be involved in the assassination. The Army Commander had recently appointed two Court of Inquiries to investigate the misplaced documents in the cases pertaining to the murder of Wickramatunge and the disappearance of journalist Prageeth Eknaligoda.
(Ada Derana)