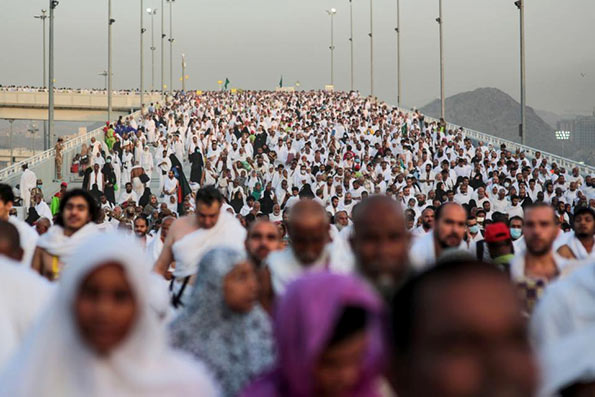 At least 717 pilgrims were killed on Thursday in a stampede outside the Muslim holy city of Mecca, Saudi authorities said, the worst disaster to strike the annual haj pilgrimage in 25 years.
At least 805 others were injured in the crush at Mina, a few kilometers east of Mecca, caused by two large groups of pilgrims arriving together at a crossroads on their way to performing the "stoning the devil" ritual at Jamarat, Saudi civil defense said.
Thursday's disaster was the worst to befall the pilgrimage since July 1990, when 1,426 pilgrims were crushed to death in a tunnel near Mecca. Both stampedes occurred on Eid al-Adha (Feast of the Sacrifice), Islam's most important feast and the day of the stoning ritual.
Photographs published on the Twitter feed of the Saudi civil defense on Thursday showed pilgrims lying on stretchers while emergency workers in high-visibility jackets lifted them into an ambulance.
The haj, the world's largest annual gathering of people, has been the scene of numerous deadly stampedes, fires and riots in the past, but their frequency was greatly reduced in recent years as the government spent billions of dollars upgrading and expanding haj infrastructure and crowd control technology.
Safety during haj is a politically sensitive issue for the kingdom's ruling Al Saud dynasty, which presents itself internationally as the guardian of orthodox Islam and custodian of its holiest places in Mecca and Medina.
Unverified video posted on Twitter showed bodies, clad in the white toweling of those undertaking haj, lying on the ground by the side of the road, surrounded by debris, as pilgrims and rescue workers attempted to revive them.
JAMARAT
Street 204, where the stampede occurred, is one of the two main arteries leading through the camp at Mina to Jamarat, the site where pilgrims ritually stone the devil by hurling pebbles at three large pillars. In 2006, at least 346 pilgrims died in a stampede at Jamarat.
Reuters reporters in another part of Mina said they could hear police and ambulance sirens, but that roads leading to the site of the disaster had been blocked.
"Work is underway to separate large groups of people and direct pilgrims to alternative routes," the Saudi Civil Defense said on its Twitter account.
It said more than 220 ambulances and 4,000 rescue workers had been sent to the stampede's location to help the injured. Saudi-owned Al-Arabiya television channel showed a convoy of ambulances driving through the Mina camp. Some of the wounded were evacuated by helicopters.
An Arab pilgrim who did not want to give his name said he had hoped to perform the stoning ritual later on Thursday afternoon but was now too frightened to risk doing so.
"I am very tired already and after this I can't go. I will wait for the night and if it not resolved, I will see if maybe somebody else can do it on my behalf," he said.
Efforts to improve safety at Jamarat have included enlarging the three pillars and constructing a three-decker bridge around them to increase the area and number of entry and exit points for pilgrims to perform the ritual.
More than 100,000 police and thousands of video cameras are also deployed to allow groups to be dispersed before they reach dangerous levels of density.
"Please pilgrims do not push one another. Please leave from the exit and don't come back by the same route," an officer kept repeating through a loudspeaker at Jamarat.
Two weeks ago 110 people died in Mecca's Grand Mosque when a crane working on an expansion project collapsed during a storm and toppled off the roof into the main courtyard, crushing pilgrims underneath.
(Reuters)