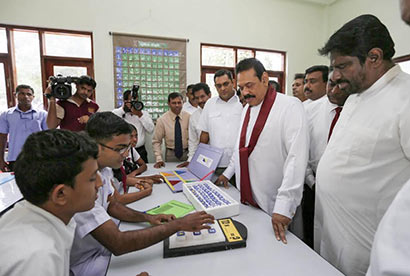 – by Janaka Alahapperuma – Pix by: Sudath Silva –
Mahindodaya Technological Laboratories (MTL) established at the Obbegoda Central College and Bakinigahawela Muslim Central College in Moneragala were vested with the students under the patronage of President Mahinda Rajapaksa on Sunday (31).
President Rajapaksa was warmly welcomed by the students and teachers of both schools. The President declared open the MTLs after unveiling the plaque, had an inspection tour. He is seen talking to students after opening MTLs. The President said that the government understands very well the value of the education, has paid attention on imparting education to all the children of the community irrespective of their ethnic or religious differences.
The President further said that a major revolution in the free education system is now taking place under Mahinda Chinthana. The construction of MTLs in 1000 schools and the wide scale development of the educational sector have contributed to this process. Under this programme the students of the rural schools will get the opportunity of receiving technological and language education. 1000 Technology graduates will be recruited for this purpose. Already, 800 of them have been recruited and these laboratories will issue 3rd level NQV certificates to the students. It is also important that these schools will get transformed into English speaking schools.
Mahindodaya Technical Laboratories have been constructed at 15 schools in Moneragala and Badulla districts. A sum of 270 million rupees has been spent for this purpose. Each MTL consists of a computer lab with 40 computers, language lab with 20 computers a science laboratory and mathematics unit with all the facilities for secondary education. So far 80 such Mahindodaya schools have been established in the Uva Province alone.
A large number of people were present at those opening ceremonies. The President also had cordial discussions with the parents and the people of the area who had gathered near the schools.