– By Sadhana Vikram –
Model, Singer, Artist, Writer, Poet & Thinker
"Full Many a flower to born to blush unseen and waste its fragrance in the desert air"
Christina Kingsbury is a multi talented teen living in Colombo. She was born at Joseph Frazer Nursing Home in Colombo and when she was just 2 years old left for Los Angeles in United States of America.
Christina's childhood soon became tragic, when her mother chose to abandon her with her father. To keep her occupied as a child her father encouraged her to pursue her interests in Singing, music, drawing artistic images, Thinking, writing short stories and composing poems.
Few years ago on her return to Colombo she pursued her education at Royal Institute Colombo where she became very popular.
Her multi faceted talents made her mature for her age and her self confidence soon was admired by all those who came into contact with her.
Artist
Few years ago Christina presented to Ambassador Robert O'Blake (Former Ambassador to USA and present Asst Secretary of State) a replica of the White House made of soft art board.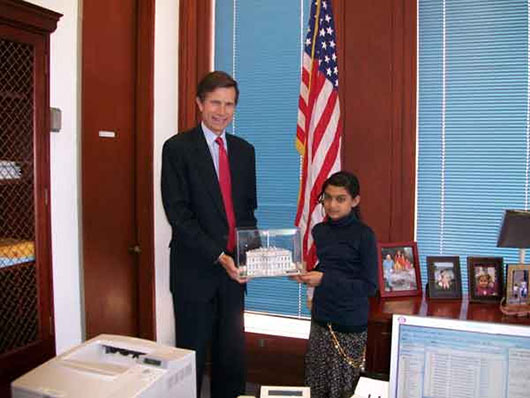 Christina presenting to Robert O'Blake
Music
She formed a Musical Band called "FOUR EVER" pronounced as FOREVER.
Singer
She has sung at various competitions overseas and won prizes. The first song she ever sung was Nana Mouskouri's "Roses love sunshine, violets love dew".
Writer
As a writer she has contributed several articles to internet newslines and newspapers.
Poet
Christina has composed poems about Friends, Life, Various aspects of Philosophy
and humanity.
Model
Her modelling career commenced when the famous Mehndi Artist Begum Farhath Haadhy invited her to be her model at a recent competition where Begum Farhath Haadhy won the first prize and together with Begum Farhath Haadhy went on stage to collect the prize.
Her multifaceted talents have moulded her life into a mature young lady who manages the house for her father.
Christina has traveled widely and is very independent and makes her owns decisions about her career objectives in consultation with her father.  She is now preparing to sit the IGCSE examination in May this year and hopes to pursue a professional career.
Christina told me never to shudder at the edge of the cliff undecided-if situation compels to make a difficult decision, she said 'Take a plunge and be done with it'. She is bold and beautiful.