Murali gets 800, Sri Lanka win by ten wickets
Posted by Editor on July 22, 2010 - 11:06 am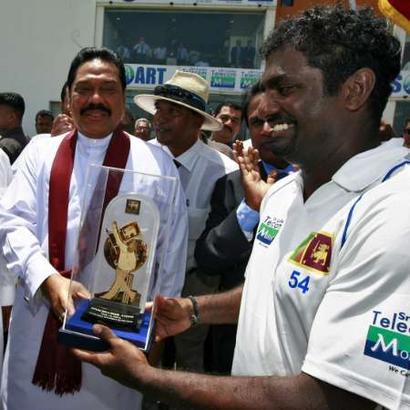 Pic by Reuters
Sri Lanka 520 for 8 dec (Paranavitana 111, Sangakkara 103) and 96 for 0 (Dilshan 68*) beat India 276 (Sehwag 109, Murali 5-63) and 338 (Tendulkar 84, Laxman 69, Malinga, 5-50, Murali 3-128) by ten wickets
You are eight wickets short of entering a territory where no other cricketer has left a footprint, you enter the last day of the last Test you will ever play needing two wickets, you take one, your partner threatens to take everything else on offer and you can do nothing but keep on bowling. And wait. The umpire doesn't give a palpable shout for lbw. You wait. VVS Laxman, who kept you at bay for so many hours, runs himself out and there is only one wicket left for you to take. You wait. Perhaps even fret. You nearly run out the last pair yourself. Twice. And after 23 wicket-less overs, perhaps self-doubt creeps in and you wonder whether it would come at all. Suddenly, the moment arrives and you are there. Where no man has gone before. The long wait only highlighted the precious toil that went into the preceding 799. What a legend. And oh, btw, Sri Lanka won the Test by ten wickets
It was a script that flirted with romance and the fictional. Lasith Malinga nearly didn't let Murali get to 800. Then the Indian tail refused to relent. It threatened to rain. The real fight, though, had evaporated in the first over of the day when Malinga yorked MS Dhoni with an awesome reversing outswinger. It seemed to drift towards leg but straightened at the very last second to move past a clueless Dhoni and clattered on the stumps. Would Malinga knock out the tail before Murali gets his two wickets? Either by design or otherwise, Kumar Sangakkara stepped in and removed Malinga out of the attack after just three overs.
Murali is 38 now. The wrists aren't as supple, the old fizz is certainly missing, the shoulder aches and the knees creak when he pivots. And he still produces magical deliveries and takes a five-for. Even in his last Test. Yesterday, he removed Dhoni with a magical offbreak and twice had Yuvraj Singh look like a tailender. Today, he didn't have to do anything special and had to just remain patient. It isn't easy to do so when you are so close to a special landmark. The temptation to produce something extra, something magical and something unplayable would have been there but if there was any, he didn't show it. He kept reeling in the off breaks, mixed in the occasional doosra, and varied the pace and the trajectory. And waited.
As expected, men crowded the bat, appeals were made and he trapped Harbhajan Singh in front. Unexpectedly, Abhimanyu Mithun resisted. Time wore on. Malinga remained out of the attack. India took the lead. Murali changed ends. The photographers kept clicking every time Murali bowled a ball and ran from end to end for better views. The television cameras continued to do extreme close-ups.
Then it happened. Malinga returned to knock out Mithun with a superb inswinging yorker. Some fun followed: Barring a delivery that was pushed well outside off, Malinga was on target ball after ball but Laxman and Ishant Sharma stood firm. He did the same when he returned later to bowl at the last pair Ishant and Pragyan Ojha. It felt right. Malinga bowling wides might have smelt like sympathy and a touch disrespectful to Murali. It also felt slightly alarming, though. What if Malinga took both wickets? What if Murali ended up on 799. Perhaps, it wouldn't have been bad. Perhaps there was a touch of romance in that. Like Bradman's last-innings duck leaving him on 99.94. 800 is just another number after all. Even before the Test Murali was already where no man has gone before. Still, you couldn't help hoping that he would reach the milestone.
The new ball was taken. And Murali very nearly made his tryst with destiny. A ripping off break from round the stumps seemingly had Laxman in front but umpire Daryl Harper didn't budge. Perhaps, he was wary of ruling it out because of the emotions that the context threw up. Perhaps, he just thought it was missing leg stump. Post lunch there was more nail-biting drama.
Just when you feared it might never come, it came. Ojha edged a flighted off break to who else but Mahela Jayawardene. How fitting. It was the 77th time Jayawardene had taken a catch off Murali. A world record. Murali roared, his team-mates exploded and hoisted him on their shoulders, his wife and mother jumped out of their seats, the crowd cleared their throat and the fireworks exploded. All seemed well with the world.
Sriram Veera is a staff writer at Cricinfo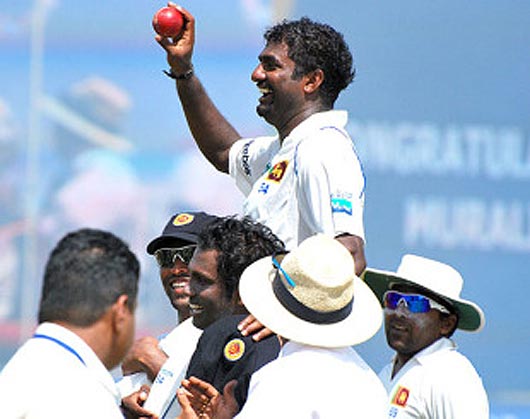 Latest Headlines in Sri Lanka