Lanka needs to do more
Posted by Editor on July 22, 2010 - 1:16 am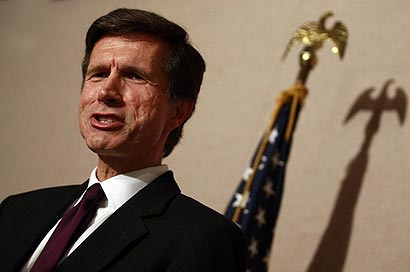 US Assistant Secretary of State for South and Central Asian Affairs Robert Blake says Sri Lanka needs to take more steps to encourage greater reconciliation and greater democracy and also noted the need for improvements in media freedom.
Blake noted that achieving reconciliation will be a key element in peace and one part of achieving reconciliation will be to finish resettling all internally displaced personas as soon as possible.
"Another key part of reconciliation is to ensure accountability for past wrongs. US Secretary of State Hillary Clinton had recently told External Affairs minister G.L Peiris that Sri Lanka's Lessons learnt and reconciliation commission holds promise and we hope and expect it will fulfill that promise. A last pillar of reconciliation will be to advance democracy and human rights. Minister Peiris affirmed during his visit to Washington that Sri Lanka wants to review and strengthen its institutions of democracy," he said
Blake added that progress in implementing greater power sharing with the provinces, implementing the 17th amendment to empower independent commissions such as the human rights, police and bribery commissions and efforts to safeguard media freedom will all be important steps in ensuring an important step of peace and prosperity for all Sri Lankans.
The US official, who met President Mahinda Rajapaksa during his visit to Sri Lanka today, said that the President understands the need for power sharing and wants to go forward.
Blake also said that there is some misunderstanding on the role of the UN panel appointed by UN secretary General Ban ki-moon to advice the UN Chief on Sri Lanka. Blake was of the view that the UN Secretary General appointed the panel to advice him about what might be done to help the Commission in Sri Lanka.
"The US believes the UN panel can play an important advisory role with Sri Lanka's commission. The panel is only an advisory panel and does not have an investigative role. It can benefit Sri Lanka's commission," he said.
On the US decision to review GSP trade benefits for Sri Lanka Blake said that it is important to make a distinction on the US GSP process and the EU GSP plus process saying that while the US had initiated a process to look at human rights in Sri Lanka GSP will remain for Sri Lanka during the process.
DM online
Latest Headlines in Sri Lanka