Murali's wife says she's simply proud of her husband's achievement
Posted by Editor on July 22, 2010 - 1:09 am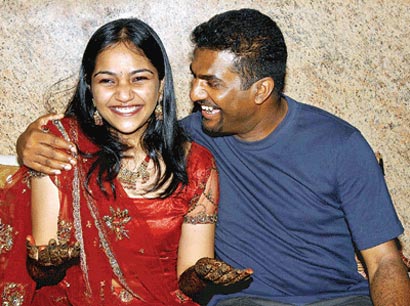 Galle: This may be Muttiah Muralitharan's last Test match but the veteran off-spinner seems as cool as a cucumber. His mannerisms may suggest otherwise but the iron man is a picture of calm out in the middle.
Up in the stands, in the cool confines of the VIP box, the 37-year-old's family is simply not at ease. "Every time Murali picks up a wicket, my heart starts beating faster. I get so excited and I can't just wait for him to get to the 800-wicket mark," says Madhi Malar Ramamurthy, Murali's better half.
"I hope he picks up those remaining wickets today (Wednesday) itself. Otherwise, all of us will have to wait anxiously for yet another day. The more we wait, the more tense it gets," she adds while asking naughty Naren, the couple's young son, not to run around helter-skelter.
And Malar, as you would expect, is an extremely proud wife. The whole country is celebrating her husband's achievements. "I never expected all of this. People have composed songs on Murali, life-size cutouts and posters are everywhere!
"Tears of joy just flow down my cheeks when I realise how special he is to the people of Sri Lanka, how much they love him and how much he means to them. I have never seen anybody in any sphere of life get this kind of a farewell. I am proud to be Murali's wife," Malar, who hails from Chennai, says.
That Murali won't play Test cricket again also means he will spend more time with folks and friends. "He is on tour most of the time and has not been able to stay at home for long. He'll have more time at hand now," she says with a smile.
So how supportive was his family when Murali informed them of his retirement decision. "He had planned it earlier. He wanted to retire after the home series against the West Indies. However, as an afterthought, he chose to call it a day after the first Test against India," Malar goes on to explain.
"He did consult us but it was his own decision and we were all fine with it. He is a matured individual, a great cricketer and knows what he wants to do. He will continue to play ODIs," she adds.
With a staggering 515 wickets (also a world record) in the 50-over format to add to his Test exploits, Malar says her husband has nothing more to achieve. "He is quite a satisfied man," she says matter-of-factly.
The good news, she informs, is that he will continue to turn out for county sides as well as IPL champions Chennai Super Kings. And Murali has already ensured his legacy continues. "Dad and son play all the time," Malar informs. What's more, Murali has also taught Naren "quite a few tricks of spin bowling" and one reckons he's done well as a 'coach'. Ask Naren to roll his arm and he spins a sponge ball just like you know who. "Of course, he loves Naren so much and they also watch cricket together. Naren loves all the Indian players, especially CSK players like (MS) Dhoni, (Suresh) Raina, (Murali) Vijay and other guys," Malar adds.
She goes on to say that her husband loves "watching Tamil movies". And as far as life outside cricket is concerned, he has quite a few plans which "we hope will be successful." No doubt about that! And which team does she support India or Sri Lanka? She is quick to respond: "Sri Lanka".
For the moment, Malar and the whole of Sri Lanka will have to wait. At the time of writing, Murali is 798 'not out'. The only person unaffected by all this frenzy is the man himself! For Malar, and yes, the whole of Sri Lanka, it will be a sleepless Wednesday night.
DNA India
Latest Headlines in Sri Lanka