Museum theft: JHU leader accuses police of trying to protect powerful politician
Posted by Editor on August 22, 2012 - 8:33 am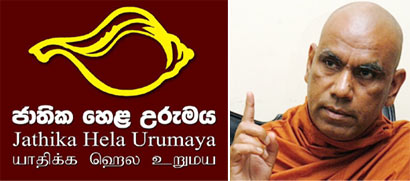 Jathika Hela Urumaya Leader Ven. Omalpe Sobitha Thera yesterday scoffed at police claims that the robbery of artifacts from the Colombo Museum had been carried out by a drug addict. He said Monday's arrests were only a red herring drawn across the trail of the real culprit.
He told The Island the police were not free to conduct investigations into the robbery as a powerful politician was behind the theft.
Sobitha thera said: "Police are attempting to blame this crime on a drug addict. It is nothing but a joke, because the theft was committed in a high security zone. A drug addict would not have been able steal artifacts from the National Museum in that manner. The country is heading in the wrong direction and the situation is really serious as the Museum Director and other officers initially said, when questioned, that the theft was not a big issue as many artifacts had been missing during the time of other governments too."
The Thera said that the Kapilawastu Relics were kept in a Museum in India and protected as a national heritage. But, if they had been kept in the National Museum of Sri Lanka, they too would have gone missing by now.
The police could have found the items stolen from the National Museum if they had been given a free hand to conduct investigations. But, the same police force had been able to find the money and a watch worth millions stolen from the residence of the President's brother-in-law in next to no time, as they had been given free hand in that case.
"The police may claim that the museum theft was committed by a drug addict, in the same fashion they once produced the produced the body of an unidentified man claiming that it was the killer of Lalith Athulathmudali," the thera said.
Ven. Sobitha said that the theft of artifacts was also blamed on a drug addict and the case file would closed shortly, as in the case of the Lalith athulathmudali killing.
Courtesy: The Island
Latest Headlines in Sri Lanka