Dilith says 'I'm innocent'
Posted by Editor on August 22, 2012 - 8:42 am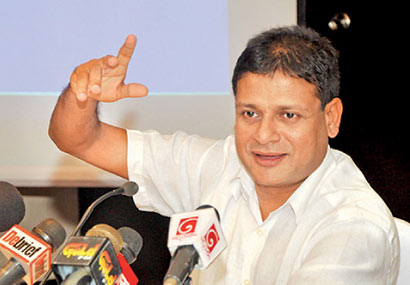 Dilith Jayweera, an advertiser turned investor who makes investments in the Colombo Stock Exchange (CSE) through his investment vehicle Divasa Equity, yesterday affirmed that he has no involvement in the controversial resignation of Securities and Exchange Commission (SEC) Chairman, Tilak Karunaratne.
Jayaweera was widely considered as a member of a certain powerful high net worth investor circle, which was sometimes identified as the so-called 'stock market mafia' that had influenced the higher authorities to exert pressure on Karunaratne to resign from his post, which he assumed eight months back.
"It was sad to see him go. Not only him, even his predecessor Mrs. Weeratunga (Indrani Sugathadasa). It was the 'incapable and inefficient' staff with vested interests in the SEC that contributed to their resignation by misleading them," Jayweera alleged. During the meeting the market stakeholders had with President Mahinda Rajapaksa, Jayaweera made a PowerPoint presentation to Rajapaksa through which he painted the SEC as the only market regulator in the world which contributed to the downfall of the country's capital market.
"Karunaratne's resignation has no connection to my presentation. He was aware that I was going to do a presentation at the meeting. I admit that I made use of the opportunity to put forward my case by requesting to make a PowerPoint presentation when I was invited to the said meeting through a telephone call. Ideally, the SEC, the CSE and the stockbrokers should have made presentations. But they didn't," Jayaweera said.
Responding to a query from a journalist, Jayaweera admitted that he had received four to five letters from the SEC, inquiring about certain share purchases he did in the CSE.
"But, to date, I don't know whether I was being investigated. And the letters I got inquired about certain share purchases I did two years ago. Media reported that there were 17 investigations the SEC was conducting and nearing completion," he said.
Jayaweera also grumbled that a certain section of media has been trying to identify him with the so-called 'stock market mafia' and said it has resulted in his companies losing business, together with his reputation getting tarnished.
"An Indian investor was ready to make an investment in Colombo Land & Development PLC where we have business interests. But suddenly he pulled out as a result of his secretary doing a Google search on us," he said.
Meanwhile, answering a media query, Jayaweera confirmed about a phone call that was said to have received by Karunaratne from Defence Secretary Gotabhya Rajapaksa in connection to him.
"Yes, he made a phone call to Karunaratne to get me an appointment with him. When I went to meet the Defence Secretary in February, who I believe is a thorough gentleman, to discuss about this fresh milk initiative the government was focusing on at the time. Somehow, the topic shifted to the stock market and I told him that I would like to meet Karunaratne. Then the Defence Secretary told me that he was a good friend of Karunaratne, both being old boys of Ananda College and took a call to him in my presence to get an appointment for me."
"Then, Varuni (Varuni Amunugama Fernando, Joint Managing Director of Triad) and I went to meet him and we had a cordial chat for about a couple of hours. In fact, the idea behind the meeting was to extend our support to him in effectively regulating the market," Jayaweera said.
There were media reports quoting unnamed sources which insinuated that Karunaratne was contacted by a top official asking him to drop investigations the SEC was conducting on certain individuals.
Throughout the media conference which lasted for almost three hours, Jayaweera maintained his position that the regulations introduced by the SEC for the last one and a half years had contributed to the market downfall.
He also noted that the net foreign inflows the market has been receiving this year should be scrutinized as there are three kinds of foreign investors in the Colombo bourse- the locals with foreign accounts, foreign funds and short-term foreign investors.
"The market needs to be regulated effectively to create investor confidence. If there are people who are engaged in malpractices they should be punished and sent to jail if law permits," Jaywaeera said.
However, Jayaweera was critical of the statements the regulators have been giving to media about the Colombo bourse.
"It is not the regulator's job to say whether the market is overpriced or underpriced. The regulator should not also go on record saying that the market is full of crooks and manipulators. This creates a fear psychosis amongst investors," he said.
Jayweera told media present that he currently has about Rs.1.2 billion investments in the Colombo bourse and a margin account of Rs.200 million which has now been converted to a long-term loan.
Courtesy: DM Online
Latest Headlines in Sri Lanka