Sri Lanka to protest British travel advisory
Posted by Editor on August 21, 2012 - 3:36 pm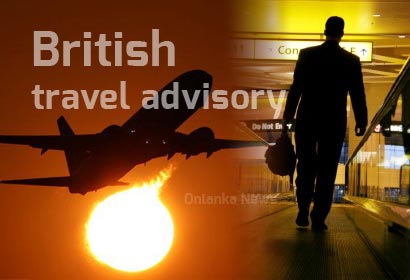 Sri Lanka will protest a travel advisory issued by Britain that warns its citizens of an upsurge in nationalism and anti-Western rhetoric in the island nation, a Sri Lankan official said Monday.
The travel advisory issued by the British Foreign Office would adversely impact thousands of British tourists to Sri Lanka, Xinhua quoted External Affairs Ministry Secretary Karunathilaka Amunugama as saying.
Amunugama said the government would voice its protest and work to get the notice changed.
"Sri Lanka's ambassador to Britain Chris Nonis has already been asked to take this up with the British authorities and we expect positive results," Amunugama said.
The advisory said that travellers should be aware that the end of the military conflict has seen an upsurge of nationalism in Sri Lanka. As a result, anti-Western rhetoric has increased.
It said: "Political rallies in Sri Lanka have on occasion turned violent. British nationals should avoid any political gatherings or rallies and beware of spontaneous large gatherings."
It also cautioned British nationals to make arrangements through reputed travel companies and exercise appropriate caution when travelling around Sri Lanka.
"Women should take particular care when travelling alone, or in small groups, and carry personal alarms," the advisory said.
However, the travel advisory said violent crimes against foreigners were relatively infrequent.
Sri Lanka's robust post-war tourism sector continued to grow, posting a 7.8 percent rise in July from a year earlier, according to government data.
In the first seven months of the year, Sri Lanka's tourism grew 16.7 percent in comparison to 2011, with British tourists marking the second highest arrival rate after Indians.
Revenue from tourism has increased 24.3 percent to around USD 460 million this year, according to the Central Bank.
Visitors from Western Europe have continued to grow, with Britain generating the most tourists at 13,643, up 13.7 percent in July from a year earlier.
Xinhua said a 32-year-old Briton was killed on Boxing Day last year in the southern part of the island, and a ruling party politician has been arrested in the case. (IANS)
Latest Headlines in Sri Lanka