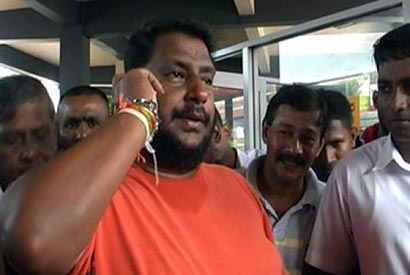 Deputy Minister of Minor Export Crop Promotion Nishantha Muthuhettigama, who recently left the country despite a warrant issued for his arrest, has been arrested at the Katunayake Airport upon arrival from Singapore.
Police Spokesman SSP Ajith Rohana stated that the deputy minister, who was arrested this morning at the Bandaranaike International Airport in Katunayake, will be produced before the Negombo Magistrate's Court.
On Wednesday (24), the Baddegama Magistrate's Court issued a warrant for the arrest of Muthuhettigama in connection with the recent torching of an election stage of Common Candidate Maithripala Sirisena in Wanduramba.
He has been accused over the alleged arson attack, damaging two shops in Udappuwa and for attempting to forcefully release two suspects in police custody.
However, on Friday (26) the deputy minister left the country for Singapore. Despite the warrant issued for his arrest, Muthuhettigama had reportedly boarded a flight at around 12.40am by traveling through the VIP terminal at the Katunayake Airport.
Speaking to an Ada Derana reporter after leaving the country, Muthuhettigama had said that he was visiting Singapore with two close associates for a holiday and that he would return to the island before the Presidential Election.
Emphasizing that he had the utmost respect for the judiciary, Muthuhettigama said that he had decided to leave the country for a vacation due to the mental stress he had suffered in the wake of recent events.
(Ada Derana)