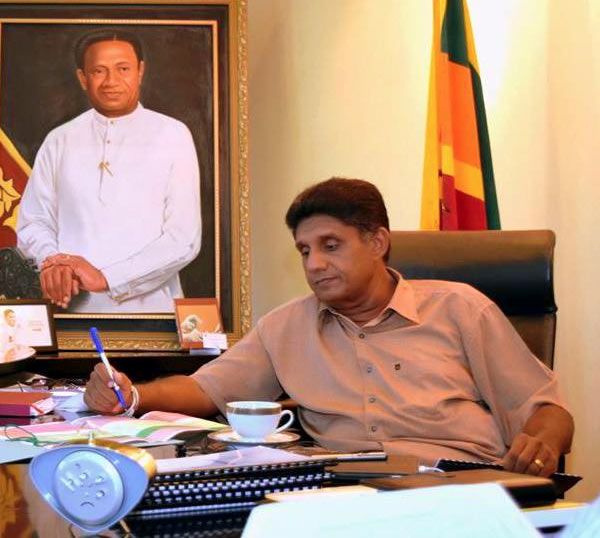 Deputy Leader of the United National Party Sajith Premadasa, addressing party supporters who gathered at the Lipton Circus in Colombo, stated that he is ready to take up the leadership. He stated that they are ready to even sacrifice their lives on the street for the protection of democracy. He went on to state that they won't be intimidated by bullets, cannon, swords nor suicide bombers.
Premadasa assured the people that gathered that they will definitely win in the name of democracy. He challenged the current leaders to vote in the parliament tomorrow if they are righteous and strong. Talking to the public he specifically noted that fake news is deadly and not to believe any false propaganda or false plans and to only trust his statements.
Speaking further amidst the cheering of the crowd, he stated that his decision is the public's decision and that he is not in for a solo-performance but for a collective united fight for democracy. He stated that he will fight to save the Government who approved the mandate to construct the Uda Gammana villages which gave thousands of people shelter. He further stated that if the public asks them to step down and take a step back, they are willing to do that. He stated that whatever the people request is what is important and none of these decisions should be taken as an individual.
He then stated "I am not a dictator, I am not a Monarch. The blood that runs through my veins is free will, free thought, and democracy."
He finally stated that when speaking about the poor man, the farmer, the fishermen, the laborer, the small man, the middle class, and the state sector employees Sajith Premadasa will be there.
The leader of UNP Ranil Wickremesinghe also addressed the rally. He stated that the speaker made an important statement yesterday regarding article 48 (2) of the constitution. Ranil stated that the speaker had clearly mentioned that after no-confidence motion is passed in parliament the government of Mahinda Rajapaksa is no more. He went on to state that there is a challenge to the minority government at present and that they are ready to show their majority in parliament at any time.
He finally stated that the current government is requesting an election and that the UNF will protect the supremacy of the people, therefore they are ready for an election after a new government is appointed according to the constitution.
(Source: News 1st)