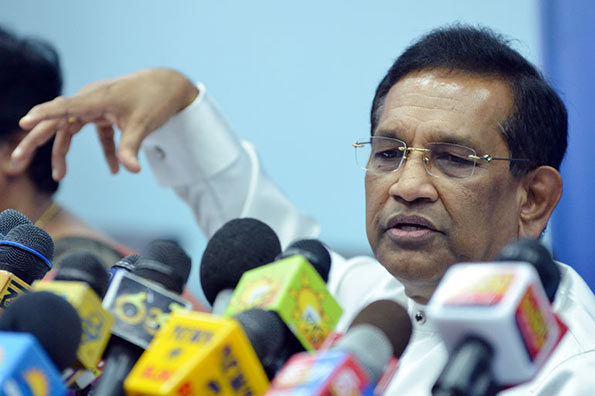 Cabinet spokesman Minister Rajitha Senaratne said yesterday it costs the Government Rs 12 million a month to sustain the Anti-Corruption Committee Secretariat.
He said the President had lost his patience with the manner in which the Secretariat has been conducting its investigations, explaining, "The matter was taken up at yesterday's Cabinet meeting and the President said that if he was allowed to take over the Ministry of Law and Order, he would resolve all major investigations within three months," he said.
All institutions which have the power to investigate and punish like the Police, CID and the FCID are under the Ministry of Law and Order that is under Minister Sagala Ratnayake.
"The President said that if this government is unable to uncover serious financial crimes and punish the perpetrators we will lose all credibility. He added that if a member of the Rajapaksa family returns to power his life will be in serious danger. So I told the President that he must take over this ministry because if we punish those who are guilty of serious financial crimes, all the attempts to sabotage the government will end," he said.
Senaratne stated that the Cabinet did not decide to close down the Anti-Corruption Committee Secretariat and will discuss the matter further at next week's Cabinet meeting. He added that the Secretariat is only investigating minor matters and that a lot of SLFP MPs feel that it is deliberately targeting its members over trivial matters.
"Although the monthly expenditure of the Anti-Corruption Committee Secretariat is Rs 12 million, it only has six investigators and one consultant investigator. But there are five directors and five consultants. We promised the people that we will punish financial criminals but we have done nothing. People are losing faith," he said.
The Anti-Corruption Committee Secretariat, situated near Temple Trees, was established soon after the January 2015 presidential election. This institution was set up on a recommendation to the Cabinet by Prime Minister Ranil Wickremesinghe.
(Source: Ceylon Today – By Rathindra Kuruwita)