Navy Commander in alleged fracas with protesters Defence Secretary calls for full report
Posted by Editor on December 12, 2016 - 8:23 am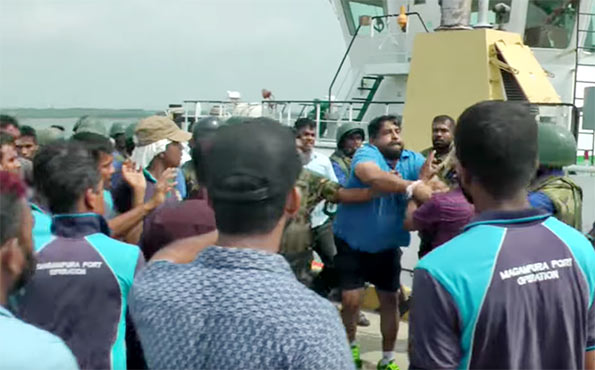 Defence Secretary Karunasena Hettiarachchi has called for a full report from the Navy Commander Vice Admiral Ravindra Wijegunaratne, regarding the controversial incident that took place on Saturday (10) at the Hambantota Magampura Harbour.
Hettiarachchi speaking to Ceylon Today noted that the Navy Commander is expected to submit a full report on the Navy's intervention during the protest carried out by a section of the employees of the Hambantota Harbour.
He also claimed that he was informed of the protest and the Navy's involvement, including the Navy Commander's apparent behaviour, only from media reports.
Navy Commander Vice Admiral Ravindra Wijegunaratne is alleged to have assaulted several individuals, including a journalist, during the protest.
When inquired whether the Ministry of Defence (MoD) has received any complaints regarding the alleged assault Hettiarachchi said that there had been no such complaints as of yet.
Navy Spokesperson Captain Akram Alavi said the Navy Commander was present at the protest while attempts were been made to disperse the demonstrators.
"The Sri Lanka Navy who is the competent authority to carry out the International Ship and Port Facility Security (ISPS) Code had to intervene to disperse the protesters from the two ships and the adjacent facility to make way for normal port operations.
The protesters were holding the ship by force and had disrupted its operation which is a grave violation of International laws and norms which could be treated as an act of piracy," he noted.
An official inquiry into the alleged Navy assault on the protesters will be initiated only once a complaint to the effect is received, Captain Alavi said.
The protest at the harbour began on Friday (09) demanding the government to refrain from handing over the activities of the harbour to a foreign company. The protestors had disrupted the routine work of the harbour and had obstructed the operations of two merchant ships berthed alongside the jetty.
Media coverage of the protest last Saturday showed the Navy attempting to take control of two vessels that was being held by the protesters. The media grabs also showed Navy officers firing into the air, in a bid to disperse the protestors.
It was reported that several employees as well as journalists who were present at the protest, were injured and hospitalized.
The Navy claimed that due to the damages caused to one of the merchant vessels- the Hyperion Highway- the shipping agent of the vessel had to incur a total demurrage of USD 400,000 for the last 4 days of non-operation.
The other merchant ship named 'MV Hoyanger' which is still berthed at the pier is yet to discharge the cargo and cannot proceed to the next port of call unless the cargo is unloaded.
"This may take a few days until the situation returns to normal", Captain Alavi said.
(Source: Ceylon Today – By Kavindya Chris Thomas)
Latest Headlines in Sri Lanka