Navy earns Rs.220 million from Avant Garde Operations
Posted by Editor on December 17, 2015 - 12:05 pm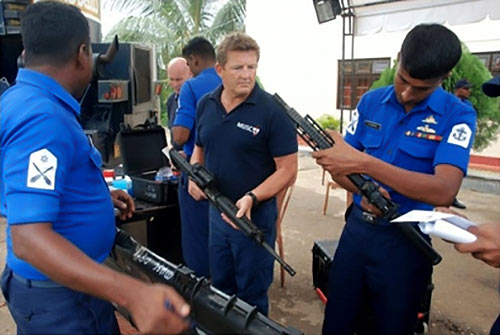 The Navy has earned an income of 220 million rupees from the operations of Avant Garde Maritime Services Ltd. This sum was earned during the period November 13th to December 13th.
With the revocation of the Avant Garde agreement, the Navy was entrusted the task of according security to merchant vessels as well as supplying service to Sea Security Firms. This was done based on a special order issued by President Maithripala Sirisena. Providing security to merchant ships carrying weapons, ammunitions and related equipment and for the smooth functioning of onboard security to vessels plying to and from High Risk Areas were some of the operations carried out by the Navy since the takeover.
The Navy bears the responsibilities of receiving, holding and issuing of weapons, ammunitions and equipment belonging to foreign and local On Board Security Teams who operate for merchant shipping companies which was exclusively handled by Avant Garde Maritime Services Ltd previously.
The Navy has carried out a total of 652 moves in Galle and Colombo Harbour during the period from November to December and earned an income of 220 million rupees. The revenue earned from these operations is directly deposited in the Consolidated Fund of the Government.
(Government News Portal)
Latest Headlines in Sri Lanka