NPC chairman determined to sending flood relief to TN
Posted by Editor on December 18, 2015 - 8:01 am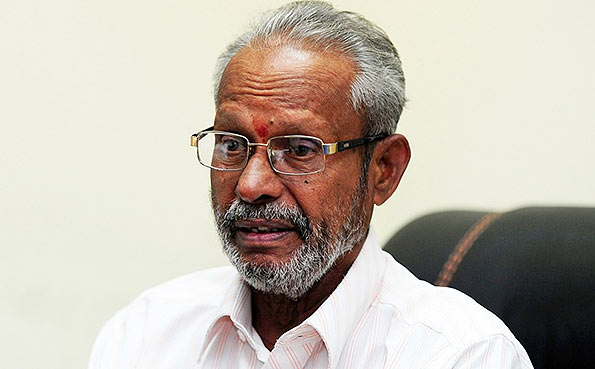 The Chairman of Sri Lanka's Northern Provincial Council (NPC) C.V.K. Sivagnanam, says that he is determined to overcome obstacles to sending relief to flood-ravaged Tamil Nadu.
While Indian diplomats told Sivagnanam that India has a policy of not accepting foreign aid for disaster management, a section of the Jaffna Tamil media, allegedly instigated by his rivals, either ridiculed his plans or said that it is not the NPC's business to send relief to Tamil Nadu. And the response of the NPC itself to his plea for contributions has been lukewarm.
In the first week of December, Sivagnanam had called an informal meeting of the NPC to discuss ways in which the Council could aid relief efforts in Tamil Nadu. An informal meeting was called presumably because Chief Minister C.V.Wigneswaran dropped the idea of sending relief on behalf of the Northern Province after the Indian Consul General in Jaffna, A.Natarajan, told him about India's inability to accept external aid.
Out of the 38 members of the NPC, 17 attended and 21, including Chief Minister Wigneswarn, stayed away from the meeting called by Sivagnanam.
But unfazed by the less than enthusiastic response, Sivagnanam and like-minded members, including the Leader of the Opposition S.Thavarajah, decided to open a bank account to collect funds to be sent to the Tamil Nadu government through the Consul General of India in Jaffna and the Indian high Commission in Colombo. The collected money was to be handed over to the Consul General on December 21.
When consulted, Indian Consul General Natarajan thanked Sivagnanam for the sentiments represented by NPC's gesture but made it clear that India would not be able to accept the contribution because of its policy of not accepting foreign financial or material help in tackling disasters. However, he did promise to find out if there is any way of getting the aid through without violating India's policy.
Meanwhile, the Rotarians of Jaffna and Chennai had worked out an arrangement to enable twenty Lankan Tamil doctors to participate in relief work in Chennai and other parts of Tamil Nadu. This was done without going through the Indian diplomatic missions in Jaffna and Colombo. The Rotarians of Jaffna told the Indian Consul General that they expect no hurdles on their path. The doctors are currently in Tamil Nadu with plans to be there till December 23.
Sivagnanam mulled the idea of sending a delegation of NPC members to Tamil Nadu to meet Chief Minister Jayalalithaa and hand over the funds to her. But there were doubts if the CM would give them an appointment. As an alternative, handing over the collection to the TN Finance Secretary was mooted.
But Sivagnanam is not in a hurry. "I would like to give the Indian Consul General time to think up a way, since he has said he will find out and let me know. But on my part, I am determined to send the relief. It is, after all, a token of appreciation for all that Tamil Nadu has done for the Tamil people of Sri Lanka over decades," Sivagnanam told Express on Thursday.
(Source: The New Indian Express)
Latest Headlines in Sri Lanka