New envoys congratulate President for holding democratic elections
Posted by Editor on August 22, 2015 - 8:48 am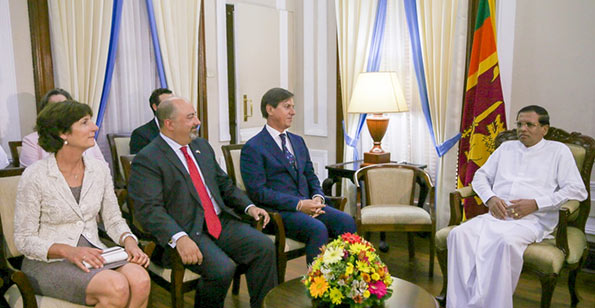 Three new Ambassador presented their credentials to President Maithripala Sirisena at the Presidential Secretariat yesterday (August 21).
Those who presented credentials new US Ambassador Athul Keshap, Italian Ambassador Paolo Andrea Bartorelli and the Netherlands Ambassador Joanne Doornewaard.
President Sirisena, referring to close bilateral relations with Sri Lanka and the countries represented by the new envoys expressed confidence that they would strive to further strengthen bilateral friendship and cooperation in many areas including trade, investment and tourism.
The President also recalled the close economic cooperation between Sri Lanka and the three counties represented by the new Ambassadors. He thanks them for the continuous assistance provided for Sri Lanka's economic development by the United States, Italy and the Netherlands. He also expressed gratitude for the support given by those countries in international forums.
The three ambassadors congratulated President Sirisena for holding a democratic, free and fair general election earlier this week. Italian Ambassador Bartorelli said his country could learn from the Sri Lankan democratic election process. "I was amazed at the way Sri Lankan people were genuinely committed to the democratic election process," he said.
American Ambasador Keshap conveyed best wishes from President Obama and Secretary State John Kerry to President Sirisena and assured the fullest US support to Sri Lanka's economic development and reconciliation. He said that his country wishes to take bilateral relations with Sri Lanka to a new height.
The Netherlands Ambassador Ms Doornewaard assured the President that her country was ready to assist Sri Lanka's development activities and offered support for implementation of President Sirisena's economic and development policies.
(President Media)
Latest Headlines in Sri Lanka