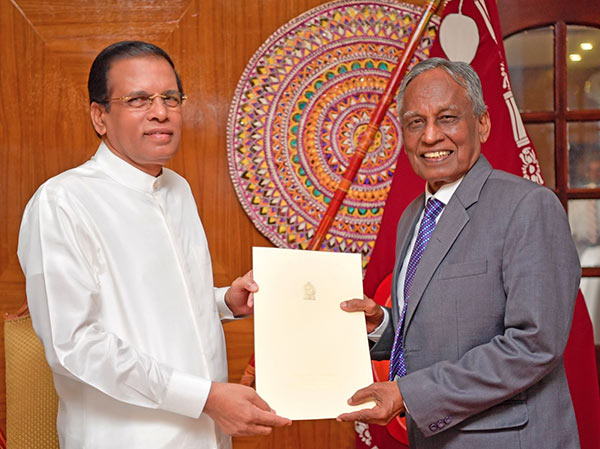 Eastern Province Governor Austin Fernando has been appointed as the new Secretary to the President. He received his letter of appointment from President Maithripala Sirisena at the Presidential Secretariat, yesterday.
He is one of the most senior civil servants of the country and he holds Masters (MA) in Public Administration from the University of Sri Jayewardenepura.
He served as the Polonnaruwa and Nuwara Eliya District Government Agent and was later appointed Cooperative Development Commissioner and Postmaster General. He was the Defence Secretary in the Unity Government.
Kapila Waidyaratne and Lieutenant General Mahesh Senanayake were appointed as the new Defence Secretary and the new Commander of the Army respectively. Senanayake is the 22nd Commander of the Army.He is a graduate of the United States Army Command and General Staff College and holds a Bachelor of Science Degree in Civil Engineering.He was awarded the Rana Wickrama Padakkama (RWP), Rana Soora Padakkama (RSP) many times for bravery and the Uththama Seva Padakkma (USP) in recognition of excellence.He served previously as the Jaffna Security Forces Commander.
Lieutenant General Mahesh Senanayake succeeds General Crisanthe De Silva appointed Chief of Defence Staff (CDS) a few days ago.
Kapila Waidyaratne (PC) is a Senior Additional Solicitor General at the Attorney General's Department. He joined the AG's department in November 1983 as an acting State Counsel. He was promoted to the post of Senior State Counsel in 1996 and as Deputy Solicitor General in 2005 and Additional Solicitor General from December 11, 2013. He was appointed as Senior Additional Solicitor General on Januaray 24, 2015.
Former Foreign Minister Rohitha Bogollagama was sworn in as Eastern Province Governor.He succeeds Austin Fernando.He was former Sri Lanka Freedom Party Kotte electorate chief organiser and the Foriegn Affairs Minister from January 28, 2007 upto 2010. He is a lawyer by profession.
(Source: Daily News)