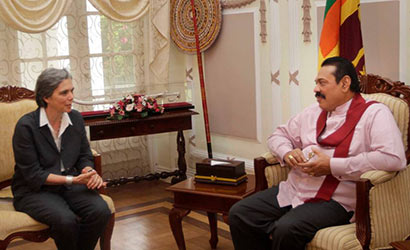 The World Bank's new country director assigned to Sri Lanka and the Maldives, Ms. Françoise Clottes, said she sees "high potential" in Sri Lanka. Ms. Clottes made this observation when she met President Mahinda Rajapaksa at Temple Trees yesterday (Aug. 28) evening.
Ms. Clottes also said that the government has put in place some ambitious goals, but what "is more remarkable is that (work on those objectives) is well under way," and the World Bank's role in the country now is "more about how we can help more."
President Rajapaksa advised Ms. Clottes to visit rural parts of the country to get a comprehensive understanding of all aspects of Sri Lanka. The President also said that speaking directly with the people will be the best way to understand the actual ground situation.
Telling President Rajapaksa that she feels "privileged to be placed in Sri Lanka," Ms. Clottes said that the World Bank remains fully-aligned with the government's vision for the country.
"The country is unique. The country has assets," Ms. Clottes said, describing how, unlike many other countries, Sri Lanka does not have to struggle to establish an identity.
Secretary to the Treasury Dr. P.B. Jayasundera also joined the meeting.
(Courtesy: President Media)