New Zealand FM to visit Sri Lanka next week
Posted by Editor on August 12, 2013 - 1:52 pm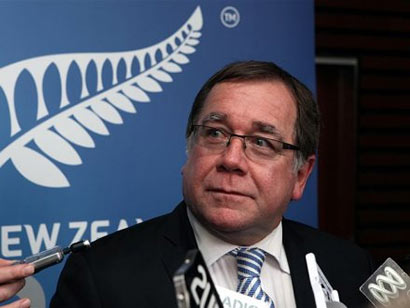 Foreign Minister Murray McCully is likely to visit Sri Lanka next week to discuss its controversial ban on 39 tonnes of Fonterra's milk powder.
Sri Lanka's Industrial Technology Institute (ITI) reported the powder contained the dangerous fertiliser chemical dicyandiamide (DCD), which Fonterra and New Zealand scientists are disputing.
They say ITI doesn't have the technology to test for DCD, tests in New Zealand have been negative and farmers stopped using the chemical last year.
Prime Minister John Key says Mr McCully has been talking to the Sri Lankan authorities about the ban.
He expects Mr McCully will go to Sri Lanka at the end of the week after visiting China.
Trade Minister Tim Groser says Fonterra's competitors could be taking advantage of the botulism scare to boost their own products on international markets.
"There are certain dairy companies that have campaigned for years against New Zealand," he said on Monday.
"We do have enemies around the world and they will take advantage of opportunities like this, we just can't be naive."
The Sri Lankan ban isn't connected with the whey protein botulism contamination crisis which has led to worldwide repercussions.
ITI's results have been analysed by an independent and internationally recognised expert in analytical chemistry, Professor Brynn Hibbert, who found they were inaccurate.
"The preferred method involves detection by tandem mass spectrometry … ITI did not use this method and so cannot conclude that DCD was in the samples of milk powder," he said.
Fonterra is also talking to the Sri Lankan government to get its product back on the shelves. (NZ Wire)
Latest Headlines in Sri Lanka