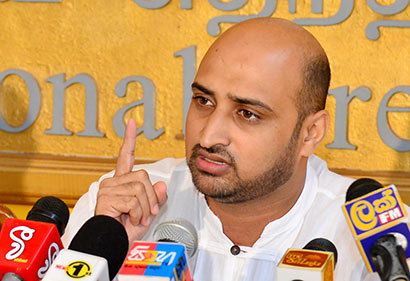 National Freedom Front (NFF) Spokesman, Mohammed Muzammil said the NFF will support President Sirisena in his 100-day plan, scheduled to be implemented immediately after the 2015 Presidential Elections.
These comments were made at a media briefing yesterday (14).
Muzammil also said that the NFF entirely endorses President Sirisena's policies and the decision to support the 100-day plan was taken for the sake of the public. He also added that the NFF will pressure the President to see through all his promises and if he deviates from his 100-day plan.
Muzammil added that the bribery allegations against former Minister Wimal Weerawansa were completely false and were invented to tarnish his character. He also said that there was a move to arrest Weerawansa.
However, complaints against Weerawansa have not been reported.
(Ceylon Today)