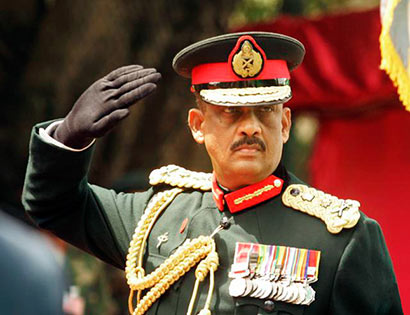 Former Army Commander Sarath Fonseka is to be restored with his titles, medals, pension and civic rights which he was deprived of in 2010, after being convicted of alleged irregularities in military procurements and sentenced to three years in prison.
President Maithripala Sirisena during the recently concluded Presidential election campaign pledged that if elected, he would rectify the injustice caused to Fonseka by the Rajapaksa government which erased his name as Army Commander from the records, deprived him of his Four Star General rank, pension and civic rights. Among the other titles the Ex-army chief was stripped of were Rana Wickrama Padakkama, Rana Sura Padakkama, Vishista Seva Vibhushanaya, Uttama Seva Padakkama and Desha Putra Sammanaya.
Asked if the gazette notification being prepared would also have the effect of restoring Fonseka's civic rights, the sources replied that it was not clear if it would be done separately as it flowed from a court conviction.
Justice Minister Wijeyadasa Rajapaksa when contacted said that the President had the power to pardon including the restoration of peoples civic rights.
A few months after the defeat of the LTTE on May 19, 2009 Fonseka was elevated to the rank of Chief of Defence Staff. He retired shortly thereafter complaining that it was a move to sideline him and unsuccessfully challenged Mahinda Rajapaksa at the January 2010 Presidential Poll. Fonseka was arrested on February 8, 2010 and court martialed. He was found guilty of corrupt military supply deals and sentenced to three years in prison. After serving more than two years of the term, Fonseka was released on May 21, 2012 due to a sustained campaign by local and foreign civil rights groups and political parties.
(The Island)