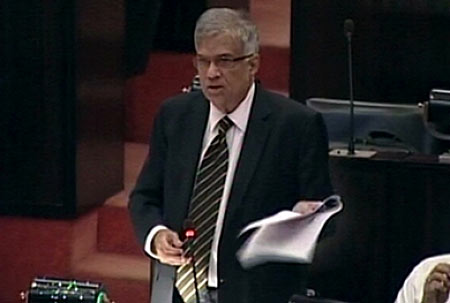 Building a bridge between India and Sri Lanka was shot down yesterday at Parliament. Prime Minister Ranil Wickremasinghe rejecting any bilateral discussion held during his recent visit to India rejected the possibilities for a bridge under the current Government.
PM responding to a question for oral answer raised by opposition MP Udaya Gammanpila said: "Lok Sabha publishes its Hansard in Hindi. I have not received a copy of it published in English. If any of the members knows Hindi, we could get this translated. Until such translation is done I am unable to comment on the matter. However, Minister Nitin Gadkari is very much building a bridge connecting the two nations. In the absence of any discussion at Government level I am unable to provide further information on the matter."
However, MP Gammanpila bringing out Indian media challenged Prime Minister to show cause why he should not take action against foreign media through diplomatic channels in Colombo. "I have reports published immediately after 16th December 2015 where Minister of Transport and Highways of India Nitin Gadkari addressed the Lok Sabha. In the even Indian Media misquoted the Sri Lankan Prime Minister, you should have taken action through the diplomats. Let us know your action taken. It is your fault for not having a single officer stationed in our High commission in Delhi with adequate knowledge on Hindi," said MP Gammanpila.
In response, Prime Minister said: "We can only read out in this House what is published in English. Please translate it if you know Hindi. You are doing nothing but fuelling racism. During the Rajapaksha regime people who knew mandarin were assigned to UK and those who knew Islandic were found at our Embassy in Beijing. Foreign service was destroyed during the last Government. If we follow your advice we may have to put language specialists in our embassies and High Commissions to cover Malayalam, Tamil, and other languages in India. I am sure that you only know to follow Malayalam Voodoo."
(Government News Portal)