NO DANCING TO ANYONE'S TUNE – PRESIDENT
Posted by Editor on March 11, 2014 - 8:04 am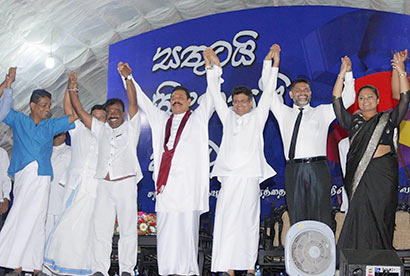 No force can change the Government as long as the people of the country place their faith and confidence in us, President Mahinda Rajapaksa said.
The President was speaking at a mammoth public rally at the Ratmalana Railway grounds yesterday to ensure the victory of the UPFA candidates contesting the forthcoming Southern and Western Provincial Council election.
The President said that attempts by some elements to change the government will be fruitless as long as the people are with the government.
"The Government is not prepared to act according to the whims an fancies of foreign forces," he said.
The President added that people have given a mandate to the government till 2016 and the government will not be dictated to by the whims and fancies of a handful of elements.
"We can go for an election in 2016 as per the mandate given by the people," he said.
He said that some elements want to create bloodshed in the country again and he will not allow such a situation to occur in the country again.
President Rajapaksa said that the government has a responsibility to resettle the Muslim and Sinhalese people who had been living in the Jaffna peninsula.
He said that thousands of Sinhala and Muslim people who had been living in the Northern Province were chased out of the province by the LTTE terrorists two decades ago and they need to be resettled in the North to ensure their rights.
The President added that the Government has faced an obstacle in ensuring such rights for the Sinhalese and Muslim communities as some politicians in the North opposed this move.
"Some foreign forces and their NGO bandwagon who are dependent on these forces are against this," the President added.
"It is not the people of Jaffna who oppose this move, but, the politicians," he stressed.
"People of all communities in the country should have the freedom to live in any part of the country," the President said.
He added that the Government has succeeded in resettling thousands of people who were displaced by terrorist atrocities in the North and the East and the responsibility is ahead of the government to resettle the Sinhalese and Muslims who were chased out of the Jaffna peninsula by the LTTE terrorists decades ago as part of their ethnic cleansing scheme.
Ministers Wimal Weerawansa, Pavithra Wanniarachchi, Patali Champaka Ranawaka and Deputy Minister Mohan Lal Grero also spoke.
(Courtesy : Daily News)
Latest Headlines in Sri Lanka