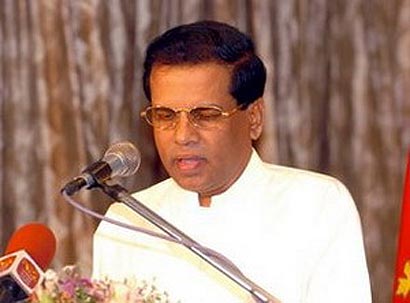 The long awaited National Drug Policy, which was continuously obstructed by the multi national drug mafia, will be handed over to President Mahinda Rajapaksa today by the Minister of Health Maithripala Sirisena.  The new policy will put an end to operations of the drug mafia in the country.
A Health Ministry Spokesman said that handing over of the National Drug Policy coincides with the National Health Week which commences today.
Health Ministry officials said that the drug mafia in the country had sabotaged Minister Sirisena's attempts to implement Prof. Senaka Bibile Drug Policy which was not implemented for the past 50 years. However, the present government took measures to send the policy to the Legal Draftsman's Department in 2011, but, it was later reported that the Draft Bill for the policy had been misplaced at the Legal Draftsman's office.
Meanwhile, the National Health Week will be held from today till 16th of March countrywide. All Members of Parliament, Provincial Councils and Pradeshiya Sabhas have been requested to visit state hospitals located in their respective areas and hold discussions today.
The National Health Week will be launched today from the Homagama Base Hospital with the participation of Minister of Education Bandula Gunawardena and the Minister of Health Maithripala Sirisena. This program is being organized with the objective of creating a healthy society. The National Health Week will be held with the participation of the public and all state institutions.
As per the  Health Ministry, today's program will be on public servants' public relations and cleanliness, tomorrow (11th) on controlling dengue , 12th  on awareness raising on dengue, 13th on prevention of kidney diseases, cancers and all the other Non Communicable Diseases, March 14th will be the day for school children, March 15th will be the day for drug eradication day, and the week will come to a conclusion with an assessment and religious observances scheduled for March 16th.
(Courtesy : Government News Portal)