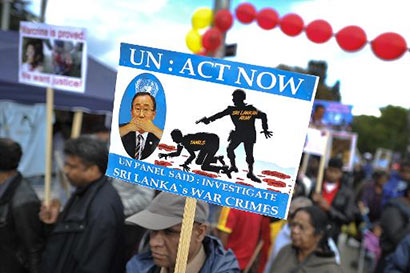 Thousands of Tamils demonstrated in Geneva on Monday to protest Sri Lanka's rejection of calls for an international probe into alleged war crimes at the end of its civil war.
Some 4,000 people, who had come from across Europe by bus and train, marched through Geneva and crowded into the square outside the United Nations' European headquarters, according to Geneva police.
The demonstrators blocked traffic through the centre of town and around the central Place des Nations, and police were forced to use pepper spray to contain the situation when protestors began pressing against the security barriers around the United Nations, police spokesman Silvain Guillaume-Gentil told AFP.
They waved red and yellow Tamil Tiger flags, posters demanding "Justice", and pictures showing victims of the alleged war crimes committed during the final stages of Sri Lanka's civil war between Tamil secessionists and the state.
The demonstration came during a key annual session of the UN Human Rights Council, which later this month will be asked to consider a US-led draft resolution calling for an international investigation into allegations that up to 40,000 Tamil civilians were killed after government forces ordered them into a no-fire zone in 2009.
Colombo has flatly rejected the draft resolution and the report by UN chief Navi Pillay on which it was based as an "unwarranted interference", and President Mahinda Rajapakse has accused Washington of treating Colombo like Muhammad Ali's "punching bag".
Sri Lanka has previously said it needs more time to address issues of accountability and reconciliation after ending the 37-year conflict, which according to UN estimates claimed at least 100,000 lives. (Source: AFP)