No eye-witness or video clip to prove assassination plot Nalaka cannot be arrested – Samarasinghe
Posted by Editor on September 19, 2018 - 8:34 am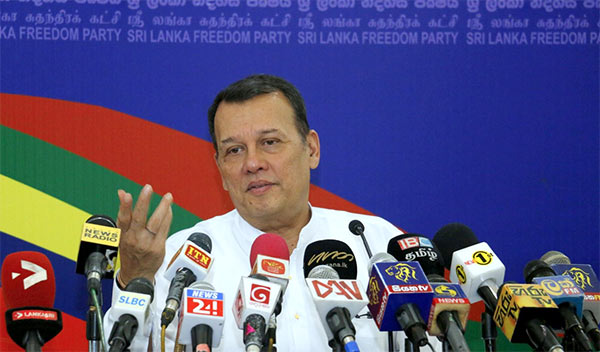 If the President's life is in peril, this Government will take the action necessary according to the existing law, Minister Mahinda Samarasinghe said yesterday (18).
He was addressing a Press Conference at the Sri Lanka Freedom Party headquarters in Colombo.
When the Minister was asked why the authorities are indifferent in taking actions against Deputy Inspector General of Police Nalaka de Silva for allegedly plotting to assassinate the President, he said, "We will go ahead with regard to this incident according to the law. We will not terrify him and banish him from this country. We have been given a voice clip, so currently the CID is testing the authenticity of this audio clip to identify whose voice it actually is," he said.
He added that it is difficult to take direct action against DIG Nalaka de Silva due to the evidence being in the form of a voice clip. He added that, direct action would have been taken if it was either a video clip or eye witness account.
Meanwhile, the leader of the Pivithuru Hela Urumaya, Parliamentarian Udaya Gammanpila, stated that plotting to assassinate the President cannot be considered as a mere murder but is an act of treason and that the accused must be arrested immediately.
According to Gammanpila, de Silva is also in a high-ranking position where he can threaten possible witnesses or tamper with evidence. He added that the Bail Act states that such a person can be remanded.
He further alleged that de Silva was also responsible for covering up certain facts of the investigation into the recent riots in Kandy, and alleged that this was the reason that the Government has not taken any action against him.
(Source: Ceylon Today – By Ranmini Gunasekara)
Latest Headlines in Sri Lanka