No foreign intervention will be condoned – President
Posted by Editor on March 22, 2012 - 6:41 am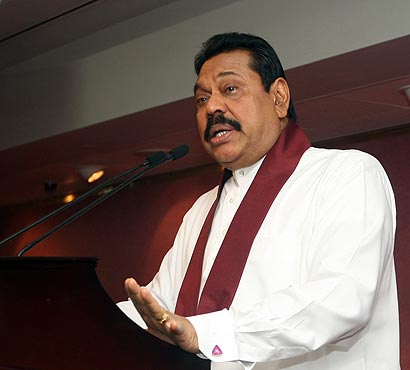 President Mahinda Rajapaksa said yesterday that Sri Lankans are used to protecting and safeguarding human rights for more than 2,500 years. He said following the eradication of 30 years of terrorism and when the country has been placed on a rapid development track, no foreign intervention will be allowed and no one can meddle in the internal affairs of the country.
The President addressing the Puttlam district special Development Committee meeting yesterday at Madampe, Chilaw, said Sri Lankans have been protecting human rights since the introduction of Buddhism to the country.
"Protecting human rights and fulfilling the people's aspirations in a people-friendly manner are not new aspects to us" the President added.
The President invited all to join hands to develop the country and fulfill their obligations. The government has taken every possible step to strengthen the bonds among the people while safeguarding human rights.
The President added that this meeting also was being held to identify the responsibilities and duties which have to be carried out for the country each other.
The President advised politicians to perform their responsibilities with diligence without political considerations or concerning politically motivated targets. Every politician and government official is duty bound to stand for the country while extending his utmost contribution to the development and betterment of the country.
"Especially, politicians should stand for the country and its people. Having identified their due responsibilities politicians must deliver to the maximum for the betterment of the motherland", the President noted.
Addressing state officials, the President said that public servants should lend a keen ear to issues forwarded by the people. Such issues should be addressed with great dedication and in a friendly manner.
The President further noted that a mechanism will be put in place to solve the human-elephant conflict which is a burning issue for the people in the Puttlam district.
Courtesy: Daily News
Latest Headlines in Sri Lanka