'No rapes committed by Security Forces in North and East'
Posted by Editor on July 24, 2012 - 7:59 am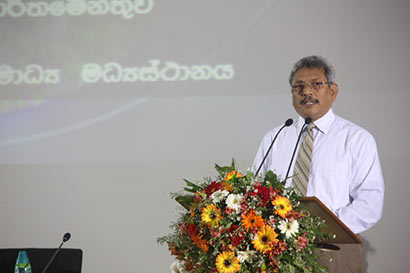 The members of the security forces have not been involved in the any sexual assault, in North and East, Defence and Urban Development Ministry Secretary Gotabaya Rajapaksa said. He said according to the statistics and revelations of a study conducted at hospital level no evidence was found that the personnel attached to the security forces were involved in sexual assaults in North and East provinces.
The Defence Secretary said that he initiated a study after a particular ambassador made a complaint quoting media that personnel attached to Security Forces were involved in sexual assaults in the North and East.
He made these observations at the seminar, 'Crime, Corruption and National Security', on the role of the mass media in raising public awareness on the prevention of crime and corruption held at the Information Department auditorium.
He said during the study, Police and hospital statistics were considered, the victims would not go to Police to lodge a complaint.
He added however the statistics on rape incidents in the North and East when analyzed revealed that rape has been committed by a very close relative like grandfather, father, uncle, brother, brother-in-law, step father etc, by a neighbour, by a known person and very rarely by a stranger.
The Defence Secretary further stated thatwhen the victims who were raped by close relatives are considered it seemed that they were at a very young age and have been raped by their own guardians. The case with victims who were raped by neighbours too was the same.
He also said that there were three occasions when army deserters were involved in rapes in North, but it was in villages in Vavunia where Sinhala speaking families live.
The Defence Secretary further said the Police or the Security Forces have no control over these types of crimes and parents are responsible for their children being victims of these types of crimes.
He also said that the objective of those who make these baseless allegations may be to justify their attempts to evict the Security Forces from the North and East.
Mass Media and Information Minister Keheliya Rambukwella and Information Department Director General Prof Ariyaratne Athugala also spoke.
Media Center for National Security Director General Lakshman Hulugalla was also present.
Courtesy: Daily News
Latest Headlines in Sri Lanka