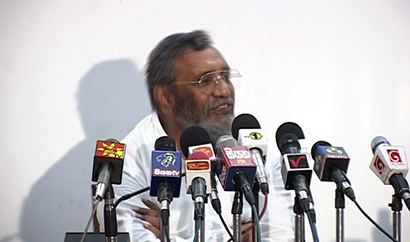 The presidential election would be held as scheduled in every part of the country, including flood affected areas, Elections Commissioner Mahinda Deshapriya said yesterday.
Addressing the media at the Elections Department Auditorium, Deshapriya said that he had already called a meeting with District Secretaries of all flood affected areas on January 03 in Kandy and there was no reason why the election should be postponed.
Deshapriya said that delivering polling cards and issuing temporary Identity Cards in the flood affected areas had been extended to January 04 and January 03 respectively.
The Elections Chief said the let-up in rains was a great relief but all precautions would be taken to ensure that the election would be conducted smoothly.
"We will have to get assistance from the Sri Lanka Navy if floods continued, Sri Lanka Air Force if the roads were blocked by earthslips and Sri Lanka Army to clear the blocked roads due to landslides to enable delivery of polling cards."
He said that if the flood situation continued and people displaced in any area, the department would not hesitate to set up special polling centres in displaced camps on January 08.
Answering a query, Deshapriya said that if people had lost their identity cards due to floods or any natural disaster, they could obtain temporary ID cards through Grama Niladhari or Estate Superintendent to cast their votes.
Explaining the voting process from bringing ballot boxes to polling stations to issuing final results, he assured that there would not be any room to rig or manipulate the election results.
Deshapriya said that always those who got defeated at an election accused the department of malpractice, but there was no room for that to happen in the country's electoral process.
He said in the past some candidates or their supporters raided polling stations and stole ballot books to impersonate voters, but now there was no room for that practice due to making it compulsory for a voter to carry the National Identity Card, Valid Driving License, Valid Passport, Senior Citizen's ID, Pension ID or temporary IDs issued by the Elections Department to cast the vote since 2004.
(The Island)